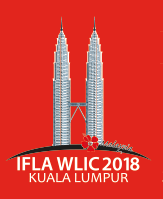 The International Federation of Libraries and Associations (IFLA) World Library and Information Congress (WLIC) 2018 just ended last week in Kuala Lumpur, Malaysia. Over 3500 attendees came to this year's conference in Malaysia. Participants came from all over the world including Myanmar, Brazil, New Zealand, Serbia, Sierra Leone, and Spain, and the topics of discussion ranged from scholarly communication to sustainability to linked data.
In addition to the week-long conference, there were also several day-long satellite meetings that are similar to pre-conference programs held throughout the region on specific topics organized by various committees/sections in IFLA. Their programs relate to the committees/sections' interests such as Indigenous Matters or Information Literacy. I had the opportunity to attend this year's conference and I'll share a few highlights and takeaways below:
Librarian Fashion – One unique panel in this conference focused on the diversity of librarians' fashion, appearance, and image. The session featured librarians from Egypt, Indonesia, Mexico, Australia, India, and Malaysia, speaking about the cultural representations of librarians in their respective countries. After the presentation, the speakers' stage transformed into fashion show runway for attendees to take the stage and strike a pose. The session was so popular that there is now a hashtag trending #librarianfashion on social media where you can find the latest pictures by and of library workers showing their attires from around the world.
Video Games in Libraries – In this session, presenters shared their experiences and best practices in designing, promoting and curating video/computer games in their libraries. Two librarians from McGill University explored how virtual and augmented reality technologies can have a major impact on library services by integrating immersive and interactive multimedia content into teaching, learning, and research collaborations. A presenter from Germany showcased JERMANIA, mobile educational game app to introduce young Indonesians who are interested in German language and culture. These examples provide an opportunity for instruction librarians to consider utilizing interactive gaming features into online tutorials or integrating VR/AR technologies to enhance digital literacy.
Information Literacy – The focus for this session explored the intersections of theories and practices in information literacy. There were discussions on the green literacy by an academic librarian from Germany and how it is important to integrate the concepts of sustainability literacy in library instruction in response to "dramatic climate change and growing ecological awareness." In another presentation, Dr. Krystyna Matusiak from University of Denver centered her talk on the research of visual literacy in library instruction. She described her research processes and findings, and concluded that "empirical research of visual literacy practices is an emergent area with relatively small number of studies" (p. 6). Many studies published by librarians were often case studies that were "descriptive and site-specific." In addition to the need for more in depth research in this area, visual literacy is definitely a growing and important area that instruction librarians should consider applying into their own practices as more and more students are immersed in visual and multimedia content.
This conference was an amazing experience, and anyone interested in international library matters should definitely plan on attending WLIC at least once. It's a great opportunity to learn about different perspectives on issues that affect the field of librarianship. Next year's congress will be held in Athens, Greece from August 24-30, 2019 and registration is now open. You might also plan to go to a satellite meeting and/or the WLIC to get the full IFLA experience!