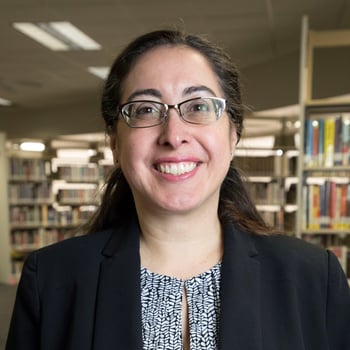 Addressing information literacy with first year students is a multifaceted challenge. Librarians may be overwhelmed by the magnitude of the Framework for Information Literacy's threshold concepts. Faculty buy-in (or lack thereof) can help or hinder. Students potentially hold misconceptions, as illustrated by Lisa Janicke Hinchliffe's research. Finally, some institutions, such as my community college, do not provide 1) a formal first year experience and/or 2) a credit-bearing IL course. You know where this leads: a Framework-skittish instructional librarian standing for about an hour in front of students who think they can Google the answer to anything and faculty who just want you to "show some databases."
Yes, it leads to a "one-shot" information literacy session.
Some, like Germanna Community College Libraries, improve their one-shot effectiveness by targeting specific classes, but let's concede that teaching the entire Framework within the confines of the one-shot is impossible. I doubt it's even possible in a semester-long course, but I'll leave that topic to someone else.
What I've found helpful is to accept my limitations. I know I can't teach six Frames or address Hinchliffe's nine misconceptions in a one-shot. So I stopped trying, and found efficacy in narrowing my focus. We now almost exclusively offer assignment-driven one-shot library instruction, which allows us to meet students at their point of need. The dynamic of the one-shot changes when I say, "I'm here to help you crush the research for this assignment."
Even if students participated in past IL sessions, targeting a looming assignment gets their attention!
In an open enrollment environment, my "first year student" could be anyone from a high school student in a concurrent class to a midlife, career-changing adult. This is a unique challenge that Hinchliffe's work addresses by anticipating possible speed bumps for students and suggesting ways to help overcome them. One of the pedagogical techniques I've adopted is beginning one-shots with a question relevant to the assignment. I then incorporate the student responses into my Framework-driven learning outcomes for the session.
"Frameworking" a one-shot evolves skills acquisition by expanding to address the WHY.
I use the Framework's language, as well as introduce the underlying concepts for the skills being taught. So when I teach citation, I don't just teach locating the elements (author, title, etc.), putting them in the correct order, and formatting it properly. I also use the Framework, and coincidentally some of the misconceptions, to explain it's not just plagiarism-preventing busywork. Scholarship as Conversation! Information Has Value! Authority is Constructed and Contextual!
I do search demonstrations without knowing if I will get results; sometimes I don't or the results are terrible. Searching as Strategic Exploration! Research as Inquiry! Information Creation as Process!
The more I approach instruction this way, the easier it gets to offer meaningful connections to students between the skills I'm teaching and why they matter. I don't actually teach the Framework. The Framework teaches me how to help students succeed.

Shawna Thorup is Head of Reference & Instruction at NorthWest Arkansas Community College. The library's instruction program provides about 160 one-shots per academic year, of which she teaches a little more than half. With more than 20 years in librarianship, Thorup earned her MLS from UCLA and also holds a BA in English from UC Berkeley and an AA from El Camino College (Torrance, CA). 2018 ALA attendees can learn more about Thorup's Framework philosophy and pedagogy by adding this conference program to their schedule: "Making the Framework Work: Adapting the ACRL Framework for Information Literacy in Community College Library Instruction". In this program, she will be sitting on a panel that will offer specific ideas and tangible takeaways.