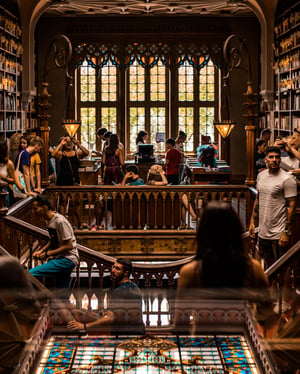 This blog series has focused on librarians establishing connections and engaging with first-year students. This post switches gears and focuses on collaborating with professors to reduce library anxiety and engage students during library instruction.
The American Library Association has acknowledged faculty and librarian collaboration and the integration of information literacy into class assignments as best practices for teaching information literacy concepts and skills. I believe students can learn better and are less distracted if they are engaged in an activity instead of merely listening to lectures. Ragains (2006) states, "Our ability to engage in a meaningful way, relevant to the students' immediate perceived needs, depends on the quality of our communication with the instructors" (p. 21). As a First-Year Experience Librarian, I have been very fortunate to have professors approach me about working with them to develop engaging and interactive library sessions for their students.
A Speech professor and I worked together to create Library Jeopardy. For this game the professor and I developed questions related to the Speech Research Guide that students were required to use to access resources for their informative and persuasive speech presentation. We also developed the game in a manner that would help the students learn how to access other library resources and become familiar with APA style. A twist based on the game show Who Wants to be a Millionaire was incorporated in the Speech edition of Library Jeopardy. Each team was provided with a "Phone the Librarian" and "Phone the Professor" card. Teams were able to redeem these cards for assistance and reinforced the importance of utilizing both their professor and librarian for research assignments.
An English professor collaborated with the library for over two years to create another game called The Quest. Each semester the professor and I meet to review clues and make revisions based on the course and the library's collection. During the activity, students are separated by job classifications. The Quest is structured so students have to explore and analyze textual artifacts relevant to our city and allows students to become acquainted with materials located in the library's Archives and Special Collections. This activity is part of a research paper for the course.
While collaborating with a professor to bring engaging and interactive library sessions into the classroom to help reduce library anxiety might interest you, maybe you do not know where to start. One helpful resource to consider is Credo's interactive FYE Guide: Practices for Enhancing Instruction. Another useful resource is The Library instruction Cookbook by Ryan Sittler and Douglas Cook.
Many librarians would like to collaborate with faculty on similar activities but may face difficulties connecting with professors to allow them in the classroom. Buchanan and McDonough (2014) point out that librarians know it is critical to collaborate with instructors but find it to be the hardest part of their job (p.21). I would suggest informing professors that you will be using simple visual aids or critical thinking activities such as Think-Pair-Share that help connect students with library resources during your initial meeting.
How have you collaborated with professors to develop engaging library instruction sessions to reduce library anxiety?
The library and library staff play a critical role in helping students make a smooth transition to college. Stay tuned for more posts in this blog series. I'll outline strategies and best practices for developing a personalized approach in order to effectively introduce services to more students, reduce library anxiety, and engage students through orientation and instruction.

References
Credo Reference (2018). The Credo FYE Guide: Practices for Enhancing Instruction. Retrieve from http://mktg.credoreference.com/credo-fye-guide-section-release.
Ragains, P. (Ed.). (2013). Information literacy instruction that works: A guide to teaching by discipline and student population. New York: Neal-Schuman Publishers
Sittler, R., & Cook, D. (2009). The library instruction cookbook. Chicago: Association of College and Research Libraries
Buchanan, Heidi & McDonough, Beth. (2014). The One-Shot Instruction Survival Guide. Chicago, IL: ALA Editions

Bryant Moore is the First-Year Experience Librarian at Texas A&M University-San Antonio Library. He enjoys finding creative ways to engage students with academic research and teach the importance of utilizing the library and its resources. Bryant earned a Master's degree in Library and Information Science from the University of North Texas in 2014. He currently serves as a mentor for the Texas Library Association New Member Round Table Mentoring Program and the Big Brother, Big Sister Workplace Mentoring Program. In 2018, Bryant was awarded the Credo FYE Innovation Award.