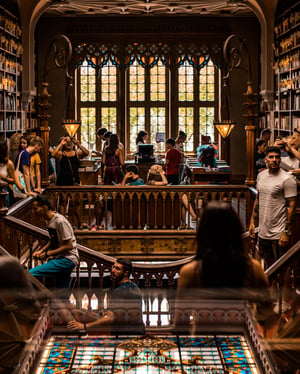 You've taken the initial steps in connecting with first year students to ensure they have a smooth college transition. As we continue to assist students in their college transition and eliminate library anxiety, it is important to engage with students and engage them with library resources.
In the book, The Role of the Library in the First College Year, Kuh, Boruff-Jones and Mark inform educators that, "A key first step is to encourage students to engage in educationally productive activities" (p. 18). The Jag X Library Scavenger Hunt is an example of an educationally productive activity that our library has used to engage first year students with library resources. The assessment conducted by our Office of First-Year Experience in 2017 revealed that over 300 students viewed the library session as the most beneficial session for their first semester. This led the Office of First-Year Experience to invite the library to have its own session that was mandatory for all incoming freshmen to attend the following semester.
When creating scavenger hunts or other activities that engage first year students, it is important that they are centered around learning objectives and include clues and scenarios that highlight key resources. Create opportunities during these activities for students to make memories for themselves. Evaluating what students learn provides the opportunity to assess the activity and determine what students learned.
As a First-Year Experience Librarian, I believe it is important to engage with students as they participate in library activities. One activity I found useful for engaging with students is Library MythBusters. This activity is based off the television show Mythbusters and was adapted from The First-Year Experience Cookbook. Many first year students have developed various stereotypes about libraries and librarians. Activities like the Library MythBusters allowed me to engage students in conversations about the importance of using library databases instead of Google, the perception that librarians are always too busy to help students, and other misperceptions that needed clearing up. The activity also helped me to teach students about basic library resources and demonstrate our library's website.
In The one-shot library instruction survival guide, Buchanan and McDonough discuss that many librarians face challenges in their desire to engage students successfully. What challenges or successes have you experienced when engaging students with library resources or when engaging with students?

The library and library staff play a critical role in helping students make a smooth transaction to college. Stay tuned for more posts in this blog series. I'll outline strategies and best practices for developing a personalized approach in order to effectively introduce services to more students, reduce library anxiety, and engage students through orientation and instruction.
References
Buchanan, H., & McDonough, B. (2017). The one-shot library instruction survival guide. Chicago: American Library Association.
Hardesty, L. (Eds.).(2007). The role of the library in the first college year. Columbia, SC: National Resource Center for the First-Year Experience & Students in Transition, University of South Carolina.
Pun, R., & Houlihan, M. (Eds.). (2017). The first-year experience cookbook. Chicago: Association of College and Research Libraries.

Bryant Moore is the First-Year Experience Librarian at Texas A&M University-San Antonio Library. He enjoys finding creative ways to engage students with academic research and teach the importance of utilizing the library and its resources. Bryant earned a Master's degree in Library and Information Science from the University of North Texas in 2014. He currently serves as a mentor for the Texas Library Association New Member Round Table Mentoring Program and the Big Brother, Big Sister Workplace Mentoring Program. In 2018, Bryant was awarded the Credo FYE Innovation Award.