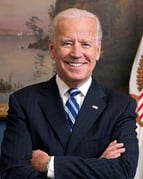 In Wednesday's Boston Globe, Vice President Joe Biden authored an op-ed titled, Five ways to make the digital revolution work for the middle class. The first item he lists emphasizes the principle of lifelong learning:

"First — provide access to education and job training that is early, life-long, affordable, and accessible. In today's economy, there's going to be a constant requirement for workers to retool and retrain for the very jobs they possess."
And yet this is not sufficient to prepare people to adapt to ongoing change in the workforce. When we emphasize information skills early, the process of adapting becomes easier for worker and employer alike.
In the same way it seems unthinkable today that we would wait until after college to teach a person basic computer skills, neither should we defer on information literacy, critical thinking, and problem-solving skills they need to continuously learn in the knowledge economy.
"This education and training is not only an obligation of our governments, but a responsibility and opportunity for our businesses. CEOs need to invest in their workers. They need to make "up-skilling" part of their business model."
I wholeheartedly agree with the sentiment that we in the business community have to invest in professional development, and would add that it is a responsibility of our education system to foster in students the skills necessary to become lifelong learners at an early age.
College and Universities are tackling this issue in a number of different ways, however we still have a long way to go. Some provide "one-shot" instructional sessions with librarians where basic research competencies are outlined, others dedicate entire classes to building these skills. Unfortunately though, a recent survey we conducted with thousands of students and hundreds of faculty across the country found that there are sizable gaps in what students think they know and what they actually know. For example only 16% of faculty believe their students have the ability to evaluate the authority of a source, compared to 54% of students. Take a moment to consider what that translates to in the real world as people make decisions affecting their company or personal life without the ability to differentiate a reliable source from something less authoritative. I'm not alone in this assessment; a 2013 Northeastern University survey of business leaders from across the country found that 83% believe higher education must change in order for the US to remain competitive in the global economy.
As I'm sure the Vice President understands, it will take a vigorous commitment on the part of all of us to prioritize this investment for our students, workers, businesses, and, in fact, our entire economy.
Image: White House photo