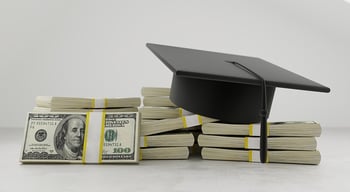 It's easy to get overwhelmed when thinking about all of the challenges facing higher education today: rising costs, shrinking budgets, and the uncertainty inherent to a quickly shifting global economy. However, it's important to not lose sight of some of the strategies that are working. For example, several innovative libraries around the country have found a way to reduce textbook costs for students while building their research skills and preparing them to navigate information in the 21st century.
According to CBS News, "the average cost of college textbooks has risen four times faster than the rate of inflation over the past 10 years." A recent survey found that while 65% of students had decided against purchasing a textbook because of its high price, almost everyone who'd made that choice admitted concern they wouldn't do as well without the textbook. The cost of textbooks represents an even larger barrier for those who are first-generation, low-income, or students of color.
The good news is that with innovations in technology, publishing, and reference, other alternatives exist. Librarians and faculty at Lake Superior College in Minnesota partnered to use existing library resources and Open Education Resources (OERs) as a replacement for overly burdensome texts. Students were obviously pleased, and faculty appreciated the chance to tailor their reading materials more closely to the course. Better yet, by exposing students to electronic library resources and building their comfort with platforms like Credo, they saw usage of e-reference content skyrocket!
And Lake Superior College isn't alone in it's optimism around the potential of Affordable Learning. 72% of chief academic officers expect OER to be a major source of curricular content in five years. With that said, only about a quarter of faculty are aware of OERs as an alternative to expensive textbooks, and only about 4% of postsecondary institutions have a campus wide initiative to increase the use of OER.
If you're looking for tools and resources to make Affordable Learning more of a priority at your institution, Credo can help! Explore how other schools are using our content to this end, and subscribe to our blog, where our News From the Open Web series offers regular round-ups of credible, open access resources you can integrate into your instruction.