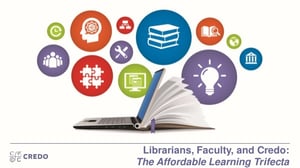 It's impossible to have any discussion of higher education today without talking about the cost. The Chronicle published this disturbing article about students choosing between food and textbooks, underscoring the need to find affordable learning solutions. Our recent webinar with Jodi Ondich and Bridget Reistad of Lake Superior College explored innovative steps they've taken to do just this by replacing expensive textbooks with existing library resources. Not only did students appreciate the savings, they became more well-versed in using the library's digital reference collection. Download the full webinar recording here (plus slides).
Lake Superior College is regarded as a leader in online education, and so acquiring digital resources like Credo had long been a part of their library's strategy. When professor Ondich expressed frustration that her students were constantly attempting to cite less-reputable internet websites for their research, library director Reistad gave her a tour of all the resources students were already paying for through their tuition.
Realizing that this wealth of scholarly content could be used to replace the textbooks in Ondich's World Religions course, they created an affordable learning solution using:
Credo Online Reference Service

, from which a broad range of Topic Pages and articles could easily be embedded in the school's LMS

Open Educational Resources (OERs)

Other trusted digital library resources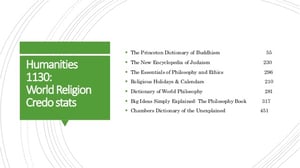 The benefits of this change were immediate and far-reaching. Instead of assigning students one costly text, Ondich drew from more than half a dozen ebooks, selecting content that proved a much better fit for her desired learning outcomes. Then, by being able to see usage stats, she could tell which materials students were most engaged with.
They promoted the initiative with faculty groups at their institution, in particular one dealing with online learning and another focused on faculty professional development. The "captive audience" nature of these audiences was important, because while the library had been promoting these resources for years, the message didn't really break through until faculty saw the range of possibilities in person.
Students and faculty alike have responded positively to this innovative solution. With the increased usage of Credo and other library resources, students became more familiar with, and comfortable using, scholarly reference content. Faculty are excited about the new possibilities opened up by embracing digital resources. The affordable learning solution offered by Credo is not only alleviating economic issues for students, it's making them better researchers too!