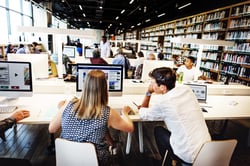 The latest issue of College and Research Libraries includes an examination of how 15 librarians use the ACRL Framework for Information Literacy for Higher Education in their work. "Implementing the ACRL Framework: Reflections from the Field," by Don Latham, Melissa Gross, and Heidi Julien, reports some good news: the framework is being used by the librarians surveyed, though more it is implicit in their work than explicitly spelled out. Less positive is that some reported librarian and faculty opinions that the document is "too highly conceptual to be practical for students."
This is of course not the first time that the framework has been accused of being too much for college students, but many librarians have gotten around this issue by adapting the framework's precepts to their needs. The literature review section of Latham, Gross, and Julien's paper includes several examples, and a look online reveals many more. Since the College and Research Libraries paper concentrates on university work, below are links to related to work at community colleges—happily, it is just a small sample of the related work that is available online.
ACRL Framework for Information Literacy Sandbox
ACRL's sandbox offers lesson plans and other resources from community colleges on how they are using the framework; use the "Institution" filter to choose "community and junior colleges."
What's in a Name? Demonstrating Value through the ACRL Framework
This paywalled article from Community and Junior College Libraries makes the case that the framework is a better fit for community colleges than were the standards that the framework replaced.
Information Literacy in Context
In this document, Portland Community College illustrates how the framework informs various classes throughout the institution, from Environmental Studies to Writing.
IL at Bristol Community College
This LibGuide from Bristol Community College's includes a rubric that the institution has created to adapt the ACRL framework to local needs.
Customizable ACRL Framework Posters
Finally, on a practical level, try these customizable ACRL framework posters from Bucknell University. Once you find language that works for your students and faculty, perhaps using the resourced above, visit Bucknell's site, where you can find a template for each of ACRL's frames.