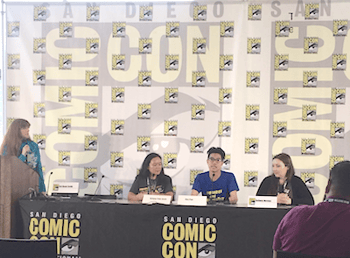 Last week, the San Diego Comic Con (SDCC) brought together comic art and graphic novel fans, illustrators, artists, gamers, celebrities, educators, and librarians. Numerous events and seminars across the San Diego Convention Center and the San Diego Central Library (SDCL) covered diverse topics ranging from "Designing the Costumes of Wakanda" to "A Crash Course to European Comics." This conference provided a great opportunity for librarians seeking to learn more about the latest publications, trends, and scholarly works on comic research.
This year, I was invited to speak in panel discussions on how comics can be used as instructional tools to teach visual literacy and social justice in library research. Whether you are an avid reader of comic books or not, there are teaching opportunities to engage with your students through comics. Here I will share some tips I learned and presented on during the conference that might encourage you to incorporate comics and graphic novels into your information literacy program!
I

ncorporate

comics

into your library instruction

.

Hand out

comics in the classroom and ask students to search them in the library catalog. Then have them research the comics' background and stories. Students can conduct research on specific themes in these visual narratives such as social justice, decolonization, intersectionality, human rights, resistance, racism, poverty, or environmental justice. By exploring critical issues in society and connecting them to comics, it may provide an interdisciplinary frame for students to understand how comics can be important literary and visual source materials for researchers. If your library does not have an extensive collection, consider partnering with teaching faculty from academic departments such as English, Film Studies, History, Art History, or Popular Culture to build on this area.
Teaching visual literacy

through

comics

.

Digitized comics collections including

Comic Strip Library and

Billy Ireland Cartoon Library and Museum can provide starting points for you to discuss the role of images in the study of history, politics, and culture.

E

ncourage open conversations about these images,

and their metaphorical and representative possibilities

. Students can also conduct research on the context of the comic/

artwork

for background information as well. The purpose of this activity is to engage with students to explore comics as visual resources when conducting scholarly research.
Using comics in a reflective activity.

This

CORA assignment on

"

Using Comics to Reflect on Academic Work

"

has

students reflect on their experiences by conducting literature reviews through a first-person comic. By creating a visual narrative that utilizes literary references and metaphors, students can tell their own story through the literature review. The activity also comes with a series of questions and a

checklist

for you to adapt in your library instruction.
Learn more at

next year's SDCC

!

If you are a librarian/educator, you may qualify for the professional badge, which

you can read more and apply for as well

.

It's a great opportunity to meet with other folks who share deep interest and passion for comics and graphic novels! You can also stay active by following the newly established group under ALA called

Graphic Novel and Comics Round Table

– this group will share resources, ideas and tips in building graphic novel and comic collection, programming and more!
*Photo Credit Danielle Rapue