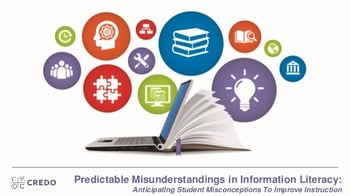 Instructional librarian Lisa Janicke Hinchliffe has been researching what misconceptions about information literacy students carry with them to college, and investigating what types of pedagogical responses best correct these. In a recent webinar she discussed the challenges of teaching information literacy to first year students, and shared her initial findings. Download the full recording here, and view her presentation slides here.
What Are Predictable Misunderstandings?
Lisa's research was initially informed by a survey of over 500 academic librarians by Library Journal and Credo. The survey findings have a lot of insightful results, but two high-level takeaways were the facts that students struggle to find and evaluate information, and that they often overestimate their abilities or underestimate the importance of proper academic research.
Between time constraints, competing demands, and misalignment with faculty expectations, it can be challenging for librarians to teach first year students the skills they need to conduct college-level research. In these survey results, Lisa saw an opportunity to diagnose student misconceptions about information literacy as a way to better tailor instruction to their needs.
Developing a Misconception Inventory
Lisa and her team pored over hundreds of comments from the Library Journal survey, coding them to see which reflected a student misconception, and then synthesizing them. They found that first-year students:
believe they are supposed to do their research without assistance

believe that learners are outside of the community of scholars

believe research is a linear (uni-directional) process

perceive the library as a place to get books

believe that relevancy rankings in search results reflect quality

conflate achieving access and information quality

believe that freely available Internet resources are sufficient for academic work

think Google is a sufficient search tool

believe that they are information literate
Librarian Focus Groups
Not wanted to leave the research to a survey alone, Lisa conducted a series of focus groups with librarians to review the list of predictable misunderstandings, and to explain how they address these misconceptions in their instruction. They even uncovered two additional student misconceptions! First year students…
believe all library resources are credible

think that every question has a single correct answer
Next Steps: Turning Findings Into Practice
Lisa and her team will work to further explore what was shared during the focus groups. From there she will look to turn these new findings into practice. This will include:
Influencing instructional design and pedagogical approaches

Serving as a theoretical foundation for follow-on empirical investigations

Informing future development of Credo Information Literacy Modules
Lisa will share the full results at ALA Midwinter this coming February. Stay tuned for more details about how to attend this session and/or receive the final report.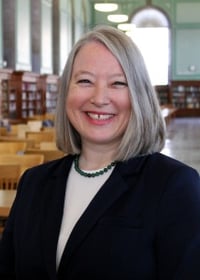 Lisa Janicke Hinchliffe
Professor/Coordinator for Information Literacy Services and Instruction
University Library at the University of Illinois at Urbana-Champaign
Lisa served as the 2010-2011 President of the Association of College and Research Libraries, which launched the Value of Academic Libraries Initiative during her presidency. Along with Debra Gilchrist, Lisa was the lead designer for ACRL's training program for the Standards for Libraries in Higher Education and the IMLS-funded Assessment in Action project. Lisa has presented and published widely on information literacy, teaching and learning, the value of libraries, library assessment, program evaluation, and organizational innovation.