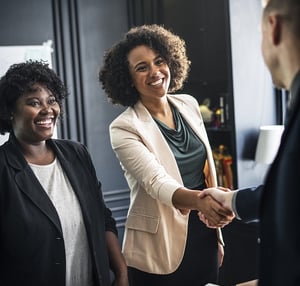 I've written often in this series about collaborating with various departments around campus (see recent posts on teaming up with undergraduate research professionals or the university fellowship office). No library is an island, and building a strong network of support helps ensure more uptake and better results for your programming, whether you're focused on the FYE, second-year transitions, or information literacy instruction. But these productive, mutually beneficial relationships don't just fall out of the ether. Here are a couple of pointers to get you in the best position to attract meaningful partnerships.
Step 1: Show Up
A critical step in making connections outside of the library is showing up: to events, to conferences, to meetings. Watch campus newsletters and calendars for events being hosted by units with whom you'd like to partner. Attend them and make sure to introduce yourself to the folks holding the event. Not every gathering or presentation will lead to something—and you certainly can't attend everything—but enough will bear fruit to make it worth it.
Watch for calls for service on campus-wide committees, and volunteer yourself in areas that overlap with the library's goals. Depending on your status (faculty/staff/combo), you'll be eligible for different committees. Even if you don't land a spot on the first one, keep trying. Once you get a seat at the table, be sure to attend consistently. It always amazes me how many committee members don't attend regularly. Through my consistent attendance on a variety of university-level committees, I've made great friends and critically important connections.
Step 2: Be Interested in Them First
At professional development events that attract staff and faculty from both within and outside the library, sit with non-library colleagues. I know this is a hard step, so go in planning to be brave and sit with strangers. (I sometimes warn my library colleagues ahead that I will be doing this so they aren't offended.)
Start conversations. Be interested in their work BEFORE sharing what you have to offer. Ask positive follow-up questions. Only then, pivot the discussion to your work in the library. Doing this has led to fascinating interactions that increased my understanding of other roles on campus and important opportunities for broadening the views of colleagues on campus who had a very narrow view of what the library and librarians can offer.