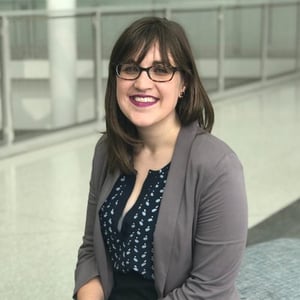 By Beth Black and Hailley Fargo
Recognizing that underclassmen students at Penn State were often overwhelmed by the process of identifying and applying for fellowships, student engagement librarian Hailley Fargo teamed up with Caitlin Ting, director of the University Fellowships Office, to create the Spark Program. In this interview she shares how they launched their collaboration, what inspired them, and how the program has evolved.
Thanks for talking with me! How did you and Caitlin come to work with first- and second-year students on the issue of fellowships?
Caitlin and I became friends in 2017 after sitting next to each other at a student resource fair. Our conversations helped us realize that we wanted our undergraduate students to be more aware of our services in order to take full advantage of our resources during their time at Penn State. From these conversations, the Spark Program was created. We've led the Spark Program three times and continue to refine and enhance the collaboration between our two offices.
Where did your inspiration come from, and how have you structured the program?
Our inspiration for Spark came from the University of Buffalo's Spark program. We borrowed their 7-week model for our first Spark cohort. In preparation, we drafted learning outcomes for what we hoped participants would achieve
Recognizing their eligibility for fellowships, and identifying the process and resources for applying.
Being able to construct a strong personal statement that leverages their strengths and showcases their experiences.
Discovering new opportunities at Penn State to be engaged and involved with their community on a campus, local, or global level.
Viewing the Libraries as a partner/collaborator in the process of applying for fellowships, conducting independent research, and other academic work.
Can you share some of your experiences with the program so far?
Our first iteration of Spark had 21 first-year students who learned about writing personal mission statements, how to overcome obstacles throughout their college career, how to get started with undergraduate research, and how to get involved locally and globally. Our end-of-program survey shed a lot of light on what worked well, and how Caitlin and I could improve for future iterations. We realized the first-year program should focus less on the fellowship process and more on gaining a holistic picture of the institution, while making sure the students understood the Fellowships Office and Libraries were here to support them throughout their entire undergraduate career.
In fall 2018, we hosted Spark 2.0 for sophomore students interested in applying to a fellowship opportunity. This 7-week program focused on how to write a compelling personal statement, how to ask for reference letters, and how to showcase your experience. It was a smaller cohort, but this allowed Caitlin and I to support these students more fully as they worked their way through a fellowship application.
This spring we led a revised version of our first-year Spark program. With this set of 22 students, we presented our offices on day one, and used the next weeks to bring in a wide variety of guest speakers. They provided great insight and advice on topics like undergraduate research, study abroad, internships, how to use the Writing Center, and more. In my co-lead role, I also had the chance to meet individually with all 22 students and connect each student to a variety of library resources (group study rooms, subject librarians, interlibrary loan, etc.).
What's next for your program?
We continue to brainstorm new ways to enhance the Spark Programs. We are considering half-day workshops, adding another session of the program at a different time, and bringing in new guests, based on the feedback from our participants. I believe the University Fellowships Office is a valuable connection for the Libraries and have gotten a lot out of this collaboration. If you're interested in this work, feel free to contact me to discuss Spark further, or go talk to your local Fellowships Office!

Hailley Fargo is the Student Engagement Librarian at Penn State University - University Park campus. This role is a liaison with non-academic units, collaborates with colleagues to create an aligned approach to student engagement, and explores ways to enhance library student employment. Hailley's research interests include peer-to-peer services in academic libraries, information literacy, and undergraduate research. Hailley is a co-founder of The Librarian Parlor, a blog dedicated to building community around LIS research. Check her out on Twitter @hailthefargoats.