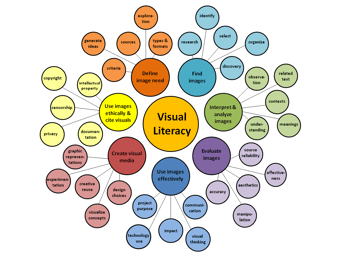 By Stacy R. Williams and Raymond Pun
Visual literacy is an important skill to make sense of images and multimedia content. In this post we'll build off our previous discussion of teaching visual literacy to delve deeper into how we can engage students to think critically in this area. From social media to digital collections in museums, librarian Stacy R. Williams shares her favorite tools when teaching critical visual literacy concepts in research workshops at the University of Southern California (USC).
Ray: Thanks for speaking with us! Can you tell us about your role as an instruction librarian and how you incorporate critical visual literacy in your workshops?
Stacy: As the Art and Architecture Librarian, I provide support to faculty and students within my subject areas through outreach, library workshops, research consultations, university committees, and collection development. In this capacity, I've been incorporating critical visual literacy concepts into workshops using images from social media and data visualization tools such as Tableau and Voyant.
Ray: I am a big fan of Voyant—it's quite an easy and amazing tool for visually analyzing texts and patterns. What strategies or activities do you recommend librarians start with when teaching critical visual literacy?
Stacy: I like to know what students think about when they hear or see the term critical visual literacy. If we are looking at an image in class, particularly an image posted on Instagram, I try to encourage them to look at the image closely and think about what they see in it, then think about what they don't see. We also discuss the comment sections of a post and how hashtags like #mniwiconi, #blacklivesmatter, or #abolishice either provide access to more information about an image, or even misconceptions about a movement.
Ray: That's very cool to incorporate social media content into your workshops. Do you recommend any resources for librarians to consider when thinking about critical visual literacy in library instruction?
Stacy: I like looking at what museums are doing in terms of education and outreach. I also use the online image collections of museums, (The Getty, LACMA, MoMa, or The British Museum) to talk about the provenance of an object or painting and how the museum chooses to display it. I also like to check out city or state agencies to see how they are working with communities in terms of art outreach.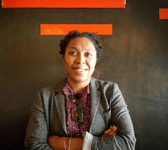 Stacy R. Williams is the Head of the Helen Topping Architecture and Fine Arts Library at the University of Southern California. She is the liaison for Architecture, Art History, Fine Arts and Sports Studies. She received her BA in Social Sciences from New York University and her MLS from Queens College, City University of New York. She is currently a student in the Master of Heritage Conservation program at USCs School of Architecture. Her research interests include media/digital/visual literacy, digital scholarship in information literacy, and the process of creating, documenting and preserving murals. When she is not in the library talking to students, she is spending time with and learning from her daughter, Stacy Jr.