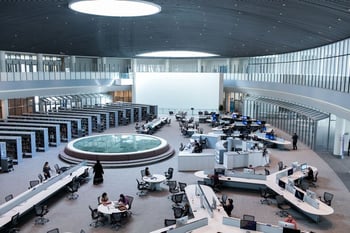 By Meggan Houlihan and Raymond Pun
In this interview, FYE Correspondent Ray Pun interviews Meggan Houlihan from New York University Abu Dhabi Library. Meggan shares her experiences in coordinating library instruction, the personal librarian program, and student engagement activities on campus. She also emphasizes that "it takes a community to support FY students, and libraries play a central role in that community."
Ray: Thanks for speaking with us! We've collaborated before through co-publishing blog posts and co-presenting webinars. This time, I'm curious about your new role and vision for the FYE at NYU Abu Dhabi (NYUAD). Can you briefly describe your recent FYE activities?
Meggan: As the Coordinator of Library Instruction at NYUAD, I play a central role in designing, coordinating, teaching, and assessing our outreach and educational initiatives that target first-year students. Currently, a team of seven librarians serve as "personal librarians" to our First-Year Writing Seminar (FYWS) courses. Through this collaboration, all first-year students are provided with a personal librarian who teaches two information literacy instruction sessions in their class and provides personalized research support. There are roughly 13 students in each section and librarians serve 2-4 sections each, thus allowing students the opportunity to closely engage with librarians.
Additionally, we make a concerted effort to engage with our students through library events such as our monthly research breakfasts, Long Night Against Procrastination, and reading hour.
Ray: That's great to have such close collaborations to support your students. Why do you think it's important for libraries to be involved in supporting the FYE?
Meggan: As an academic, I can look to LIS and Higher Education literature to know the value and importance of supporting first-year students as they make the transition from high school to university. Students who feel like they belong and are supported in their academic journey are more likely to stay enrolled and graduate.
As a librarian, I know that I play a critical role in ensuring that new students avoid library anxiety by teaching them how to locate, evaluate, and use information properly. Equipping students with basic information literacy skills early in their academic careers allows them to be more confident and successful in the classroom. I think it takes a community to support FY students, and libraries play a central role in that community.
Ray: I agree that academic libraries can play a role in fostering a sense of belonging for students and improving student retention. What's next for FYE support in your library?
Meggan: Good question, and it's a question that we often ask ourselves here at the NYUAD Library. Our personal librarian program has been extremely successful, but we're always looking to improve. I'm meeting with the Directors of the Writing Program and Writing Center next week to discuss feedback on our personal librarian program from faculty, students, and librarians. Following our meeting, we're inviting all of our writing faculty and librarians to a workshop, where we'll work together on redesigning classroom activities and assignments.
We're also working on establishing closer relationships with our CORE faculty so we can build on the IL skills in the FYWS courses. There are also a couple of really exciting opportunities in the pipelines, but I don't want to jinx myself!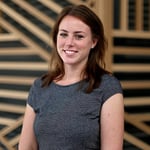 Meggan Houlihan is the Associate Academic Librarian for the Arts and Coordinator of Instruction and Student Programs at New York University Abu Dhabi. In this role Meggan collaborates with the Office of First-Year Students, Writing Program, and Writing Center to equip first-year students with basic information literacy skills. Additionally, she collaborates with subject-specific librarians to develop tiered learning programs. She is a former Coordinator of Instruction at The American University of Cairo, where she handled instructional activity, assessment, and outreach. She is the incoming Chair of Information Literacy Network of the Gulf's Steering Committee, Co-Chair of the LIRT Conference Planning Committee, and a member of the IRRT Conference Planning Committee. She is a graduate of Indiana University (MLS), the University of Reading, UK (MA Modern History), and Eastern Illinois University (BA History). Her research interests include information literacy in the Middle East, library outreach, and student learning.