By Raymond Pun and Meggan Houlihan
As librarians, we're constantly looking for new ways to keep our students engaged in library instruction sessions. From trying out new active learning techniques to faculty-librarian collaborations, we've tried it all. But could gaming be the solution to all of our problems?
Gamification in the classroom simply means to encourage engagement and interaction in non-gaming activities. In a library classroom, this could mean teaching learning outcomes such as database searching or creating citations, with fun game-based activities.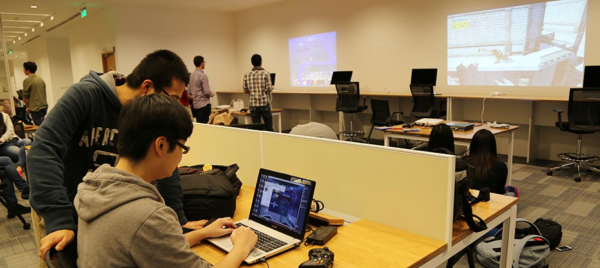 It's been hotly debated in the LIS field whether gamification actually improves student learning, and there is a plethora of literature on gaming in the library. A quick literature search will yield an overwhelming number of articles on the topic. One must consider the benefits, including student engagement and satisfaction levels, of using using gaming in library instruction sessions, but what if you still aren't convinced or sure how gamification can work in the library setting?
Start by trying out a few simple suggestions below:
Create an interactive orientation where students learn more about the library through a series of scavenger hunts and games. Librarians can utilize apps, such as

GooseChase

or

Scavify,

to create innovative scavenger hunts that allow students to collect answers with photos and text answers.

International Game Day @ Your Library

– an international event supported by American Library Association (ALA) that encourages libraries of all kinds to create a gaming environment for its communities! You can create research games where students can find different clues in the stacks and use reference databases to solve these clues. It can be done!

Global/Regional Library Competitions – You can create a series of virtual competitions where students compete with students from other universities to solve research puzzles using library. All you need to do is find a willing partner. We had students from NYU Shanghai and NYU Abu Dhabi competed against each other on International Game Day, using Skype and Google Hang Out. We suggest selecting partners based on global connection or friendly rivalries.

Integrating active-learning techniques and tools to gamify your library instruction – some people have used "Google Spreadsheets" to have students document their research progress in real-time. It works well because they can see other students completing the assignments too. This can be a helpful tool to create all kinds of gaming applications for learning purposes in library instruction. Other tools include

Kahoot!

and

Padlet

to share and collaborate.



Also, you want to provide incentives for students who participate in and complete these activities. Aside from their grades or assignment completions, today's students thrive on attention, intrinsic motivation, and prizes!
While gaming might not solve all of our problems, it does allow us the opportunity to step back and reflect on our instruction practices and reflect on ways in which we can create deeper and more meaningful connections with our students, particularly first year ones. These are just a few ideas that could spark engagement and encourage innovative teaching and learning programs in your library.
Our upcoming webinar will delve into some of these innovations for the first-year experience. Join us on March 8 at 2 pm EST to learn about new directions and best practices in the FYE!

Meggan Houlihan is the first year experience and instruction librarian at NYU Abu Dhabi. With Ray, she is the co-editor of The First-Year Experience Cookbook (ACRL 2017).