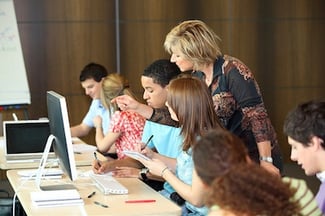 We've been hearing a lot about requests for embedded librarians surging in the past year, especially since the term "fake news" entered the popular lexicon last fall. Because collaboration between librarians and faculty is a desired outcome in so many conversations about information literacy (IL) today, we wanted to explore best practices for this strategy.
Embedded librarianship can take several forms, from heavy engagement within the classroom, to one-shots, to digital resources embedded or linked within the Learning Management System (LMS), electronic syllabus, or website. A 2015 Library Journal survey found that 84% of academic librarians had some experience as an embedded librarian. From the faculty perspective, of the 70% of faculty who devote class time to teaching IL, 51% do it themselves and 35% bring in an embedded librarian. Half of faculty embed library resources in their LMS.
Getting Started
Market Information Literacy

: In his

research

, Carl R. Andrews found that marketing the value of the library's services to faculty was a critical first step, as many don't fully appreciate what the library can offer them. He recommends creating an IL brochure (p.4) that includes a definition of IL along with what services the library can provide.

Entrepreneurial Mindset

:

This great article

from the ACRL's College & Research Libraries News recommends "being proactive in identifying and pursuing opportunities, through attending university seminars and talking with speakers for example, and being able to "sell yourself" and what you can contribute as a librarian towards new knowledge-based practices or products."
Extending Instruction Online
Taking advantage of the course page on your institution's LMS (e.g. Blackboard) is one way to offer convenience to both the faculty member and students. In addition to uploading subject guides, LibGuides, and other reference materials, librarians can also include on-demand videos and tutorials that will help students conduct their research at a higher level. These might be institution-specific topics like how to navigate the library databases or use the online catalog, or you might include IL topics like writing a thesis statement, citing sources, or avoiding plagiarism.
Getting Better as you Go
Fresno State librarian Raymond Pun has been blogging for us about the FYE space this year, and has written two posts about assessment tools and strategies, most of which can apply to embedded librarian models at all levels. He outlines how to work with faculty to create a rubric, how to use free and open source tools to assess in real time, and activities you can use in the classroom, library, or online.