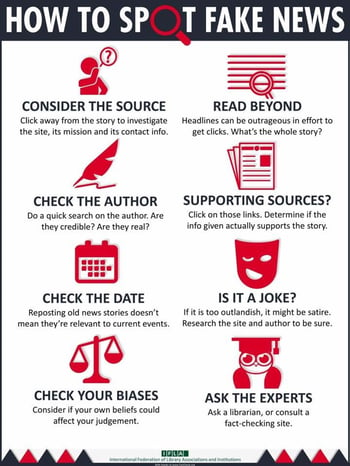 It's on the news, almost every single day. Fake news is being shared, discussed, and analyzed frequently online and in the classrooms. Studies from Stanford to Pew Research have suggested that this topic has been and will continue to be affecting students and their information consumption and research needs but how can librarians make sense of fake news in the research workflow?
The image to the right came from IFLA (International Federation of Associations and Institutions), which counters fake news by providing this simple evaluation chart. Now librarians need to work harder, closer, and more creatively to combat fake news by promoting credible research tools and reference materials, particularly for digital literacy.
Here are some ideas and activities that you may consider integrating into your digital literacy and instruction programs:
Creating LibGuides on Fake News for your classes: Loyola Marymount University in Los Angeles has a

resource page

that can give you ideas to consider.

Flipping the Workshops: develop digital literacy modules and in-person workshops on news information resources. Think about

"CRAAP"

and how students can evaluate information as "fake" or "unsubstantiated" based on the original sources through an in-person exploratory study.

Consider this resource

"The BS Detector"

as an evaluation tool in research. It is not completely accurate but it can be a great discussion point with students finding online sources in broad topics, particularly in the first year classes.

The Viral Test: have students create memes and disperse them into the web to see the concept of "virility" in action. Communication Studies professors at Fresno State have been adapting this kind of assignment to demonstrate how (false) information can be disseminated rapidly online. Librarians can support this effort by finding and sharing reading materials on the consequences of these digital activities.

Project CORA (Community of Online Research Assignments)

have selected assignments that you can adapt to your instruction plan from

conspiracy theories

to

fake news.

The ACRL Framework for Information Literacy recently released the

sandbox

, which is a repository for sharing Framework materials. It can be a great place to find useful lesson plans and assignments for rhetoric to first year writing and the research process.
Think creatively about reference materials and how they can serve as fact checking sources and starting points for an exploratory study in contrast to fake news materials or Wikipedia content. Fake news can still be used in lesson plans as a launch pad for discussion and demonstration on how to avoid using bad sources in the research workflow.
Now more than ever, reference sources are key to getting to credible resources for exploratory and in depth research and to counter the rise of non-credible information in this digital age. The research battle has just begun!

Join Raymond and Meggan Houlihan, First Year Experience and Instruction Librarian at New York University, Abu Dhabi, for their free live webinar, The First Year Library Experience: Best Practices and New Directions, March 8th, 2:00 PM EST. And check out their new book, The First-Year Experience Cookbook, available now!