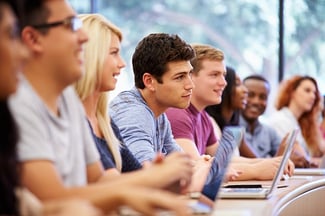 At the intersection of college preparation and student success is the first year experience program (FYE). More schools every year move beyond the simple orientation to offer some type of course or seminar with the goals of building a deeper relationship with their students, connecting these students to campus resources, and honing their academic skills.
Successful FYE programs require an institutional commitment of faculty time and resources, however studies show that the investment pays off in higher retention and graduation rates. Ohio University put together this helpful document showing how retaining a student is 3-5 times more cost effective than recruiting someone new, and how students who leave after one year can actually represent a revenue loss. What's more, the 2011 Student Retention Practices at Four and Two-Year Institutions study by Noel-Levitz found that 88-89% of four year schools who used programs designed for first year students reported them to be effective toward retention (80% for 2-year colleges).
Libraries play an integral role in what the National Resource Center for The FirstYear Experience identifies as the three most frequently reported objectives for first-year experience programs:
Develop a connection with the institution
Provide orientation to campus resources and services
Develop academic skills
A recent survey of college faculty found that they viewed incoming freshmen as being well-prepared for computer skills, teamwork, and verbal communication. However, they ranked research, critical thinking, and being able to comprehend complicated materials as the top areas in which they saw a deficit.
We will have more concrete data on this soon (in fact, help us out by taking this Library Journal survey about FYE), but in the meantime an overview of the schools included in this US News survey of the best-regarded FYE programs in the country shows little consistency in how information literacy is taught on campus. While information literacy and critical thinking is often listed as a desired outcome, their instruction is far less explicit (for example, see this description of the FYE program at Alverno College included on the US Dept of Ed list of "Promising and Practical Strategies to Increase Postsecondary Success").
FYE programs are a sound investment for institutions looking to increase retention and graduation rates, and it is clear there are very specific student deficits colleges can target as low-hanging fruit. By including critical thinking and research skills instruction during students' first year, they are building a solid foundation from which that student can succeed.
---

---