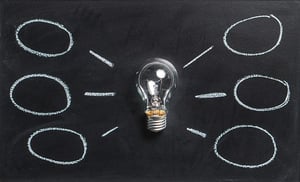 by Beth Black and Raymond Pun
Last week Beth and Ray offered activities and suggestions for teaching students about research questions criteria and the role of background information when starting their research projects. This week the two take a look at writing and revising research questions using Credo Online Reference Service.
Writing Research Questions
After exploring the Research Process Diagram, ask students in your workshop to pull up Credo, enter their chosen topic as a "basic search," and select a Topic Page. In small groups of 2-3, direct students to use the Topic Page (especially the summary article at the top) and the criteria for a researchable question to write a research question. Give them about 5 minutes. While they're writing their questions, walk around to check on students. Point students to headings in the summary article for ways to narrow topics, and the different words the sources use from their words for the topics. As students finish their questions have them write the questions on the board.
Once everyone's questions are on the board, have teams give each other feedback. Direct them to review the research questions criteria developed earlier in the workshop, and to provide each team with one thing they did well and one suggestion for improvement. Wander among the groups to ensure that everyone gets feedback – both one thing they did well and one way to improve their questions. Sometimes, students anticipate the next step and work together to revise the question—that is fine and might even be encouraged!
Revising Research Questions
Research questions become stronger as they are tested and revised. Direct the students to work in their groups to revise their questions based on the feedback, and by attempting to find 1-2 prospective sources using Credo. Encourage students to use the same Topic Page as before but move further down the page to explore the other sources listed. Give students 5-7 minutes for this step and walk around to provide guidance and answer questions.
As students revise their questions, encourage them to write them on the board near their original question. Once everyone is finished, facilitate a discussion about how the questions changed. Some suggested prompts are:
"What was your experience revising the research question?"
"What helped you more as you revised your question: the discussion or the sources?"
"How did the research questions change?"
"How do these questions compare to the criteria?"
Return to the research process cycle to point out that they've completed the background research portion once they have a revised research question. The sources they found in Credo can be carried forward into the next stages where they find additional sources to answer that question. Note that they will likely need to use other search tools and remind students how to get help from the library.
It's also important to remember that first year students may be focused on completing the "checklist" in the assignment; they will often need further mental strategies to make this an academic habit as expectations grow in their second year. Beth will be posting more about these second year experience strategies in the coming weeks!


Beth Black is the undergraduate engagement librarian and an associate professor at The Ohio State University. She helps undergraduates learn about how the library supports their success through integration of library information and resources in a variety of student experiences. She focuses on first- and second-year students, working closely with Ohio State's award-winning First Year Experience and Second-year Transformational Experience Program (STEP).