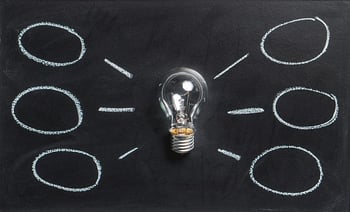 By Beth Black and Raymond Pun
Research question formation and background research are important parts of the process that set students up for success in seeing their assignments to completion. Credo Online Reference Service is a good tool for giving students practice with these fundamental steps during library instruction sessions. This 2-part series will describe an FYE workshop Beth designed and offered at Ohio State University for honors students. It can be easily adapted to class visits to courses in which students will have a research assignment. The workshop is part of the common read program, and is titled "What's in a Question? Research Questions and [common read title]". Make sure students have access to computers or tablets so they can use Credo during the session.
After students arrive and introduce themselves, begin by having them identify researchable themes and/or topics suggested in the common read book. (In a course with a research assignment, start with the themes and topics for that assignment.) A prompt for such a group discussion could be, "When I read [common read title] I was struck by the questions it raised. During this session, we will develop research questions based on themes or topics from the book. What themes or topics did you identify?" Write items on the board as students name them.
Research Questions Criteria
Next, turn to the traits of research questions. To help students get started with this part, I ask them to complete this exercise from SUNY Empire State College, which explores questions that are too broad, too narrow, and just right.
Direct students to form small groups of 2-3. These will be their teams for the research question writing activities for the rest of the session. Once in their teams, ask them to identify the traits of researchable questions. After about 2-3 minutes, have each group contribute one of their traits to form a group list in a place that will remain in view for the rest of the session, this might be on the board or on a PowerPoint slide. Use the students' language as much as possible. You will want a list that includes these things:
Clarity: Is the research question obvious and stated succinctly?
Specificity: Is the research question focused and answerable?
Context/Perspective: Is the research question from the perspective of one discipline or from the context of group?
Insight: Does the research question reveal creative thinking and the need for further research?
Personal interest and background relevant to the topic.
Background Research in the Research Cycle
In order to put this work in context of the research cycle, point out that the students have done a lot of thinking and preparation for their research already and that this is an important part of the entire research project. Use something like the Library Research Process diagram from Ohio State University Libraries. In this diagram, they are ready to begin refining their topic through some background research. Ask students to use their device or the computers in the instruction space to go to Credo, enter their chosen topic from the ones explored earlier to do a "basic search," and select a Topic Page.
This topic is continued in Part 2, where Beth and Ray delve into exercises for writing and revising research questions!


Beth Black is the undergraduate engagement librarian and an associate professor at The Ohio State University. She helps undergraduates learn about how the library supports their success through integration of library information and resources in a variety of student experiences. She focuses on first- and second-year students, working closely with Ohio State's award-winning First Year Experience and Second-year Transformational Experience Program (STEP).