International Museum Day is observed around the world on May 18th. To celebrate this year, we've compiled a list of some of our favorite museums. If you can't visit them in person, at least you can explore their Topic Pages!
British Museum The museum was established by act of Parliament in 1753 when the collection of Sir Hans Sloane, begun in the previous century and called the Cabinet of Curiosities …
Museum Of Modern Art (New York, N.Y.) (MoMA), New York City, established and incorporated in 1929. It is privately supported. Alfred H. Barr, Jr., was its first director. Operating at first in rented galleries, the museum specialized in loan shows of contemporary European and American art.
Mausoleum Of Qin Shi Huangdi Located at Lintong in Shaanxi Province, the mausoleum of the first emperor, Shi Huangdi of the Qin clan (reigned 246–210 bce), is the site of one of greatest archaeological finds, in terms of physical content and historic importance.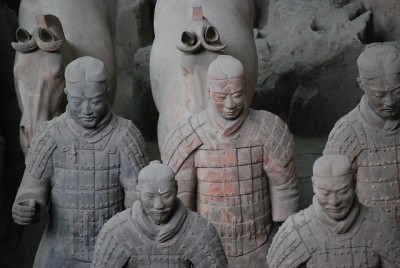 Museo Del Prado Spanish art gallery containing the national collection of paintings and sculptures. The building, located in Madrid, was designed as a natural history museum and begun in 1785; it became an art gallery in 1818 under Ferdinand VII.
Metropolitan Museum Of Art The museum's most outstanding collections include European paintings and sculpture of the Renaissance, baroque, and modern periods; pastels; watercolors; miniatures; a vast number of drawings and graphic art works; and armor.
American Museum Of Natural History The anthropology department at the American Museum of Natural History (AMNH) is one of the oldest, largest, and most important such departments in America.
Musée Du Louvre The building was a royal fortress and palace built by Philip II in the late 12th cent. In 1546 Pierre Lescot was commissioned by Francis I to erect a new building on the site of the Louvre.
Tate Modern The original Tate Gallery, endowed by the sugar merchant Henry Tate (1819–1899), opened at Millbank, London, in 1897. The museum was relaunched as Tate Britain in 2000, aiming to become a national gallery of British art – Tate's original intention.