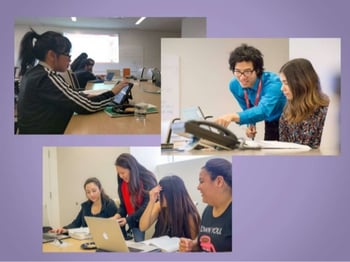 The third installment of our Credo in Action webinar series featured two Fresno State librarians, Ray Pun and Vang Vang, discussing new and innovative ways to engage students through gamification, visual literacy, and more. With clear and practical examples, they walked us through how they've implemented these various strategies to expand their instruction and outreach services. Here are a few of the highlights; access the full recording and slides to see all 10!
10: Job Resources for Career Research
Employability is a common goal for both students and their learning institutions. Collaborate with your campus' Career Center to help students research career paths. Make sure they're aware of library resources that can support their work; for example, Credo provides several books on jobs as well as leadership development.
9: Credo in Wikipedia-Edit-A-Thons
A great way to show students that they can impact the world around them is to have them use Credo to fact check and edit Wikipedia entries. This helps them learn valuable research skills while culminating in a result they can see and feel proud of. Last spring Ray used Women's History Month as a theme to bring students into the library to improve and build out pages on influential women in history!
7: Visual Literacy, Analysis, and Research
Many students use Google or Artstor for images, but Vang likes to show them that Credo provides a great one-stop shop for visual information needs. Tip students off to how pairing information with images can save them time when designing their presentations. In the long run, the images can also be of great service to their research itself!
4: Database Search Comparisons Assignment
This is a great activity for library instruction sessions. Start by putting together a table or spreadsheet (shared in Google Sheets or a paper handout) that will show some of the different library databases, what types of information they contain, and why they might use each one. Assign them a search so that they can see the different kinds of results they get when they type the same search terms into each database. This will help them understand the resources better, and think more critically about how they want to approach their research.
1: Culinary Arts and Research!
This activity is not just for culinary schoolers and food science and nutrition majors! Integrating this kind of programming with reference can be a great way to generate interest in the library. One example Ray cited was hosting an international student event in the library, providing food from their countries of origin, and using a resource like Credo to illuminate more about these foods. This is something public libraries have had a lot of success with, but it's a great way to engage students in an academic setting too. People can learn different food traditions, meet new peers, and be introduced to resources that they will use in their future research.
Catch the full
recording
and
slides
to go more in depth with Ray and Vang!