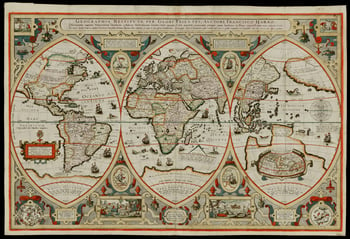 By Andy Rutkowski and Raymond Pun
Maps are incredible and powerful primary sources that can be used to inform and engage learners about the complexities of human geography. Today there are tons of free digital map resources such as NYPL's Map Warper and the Library of Congress' Digital Map Collections. These digitized maps can be used to teach visual literacy across the disciplines, but that's only the tip of the iceberg in terms of what's possible when incorporating maps and geographic information systems (GIS) in library instruction. In this interview, Andy Rutowski, Visualization Librarian at the University of Southern California (USC) Libraries, shares some ideas that he's been working on to promote information and data literacies through maps and GIS tools.
Ray: Thanks for speaking with us! Can can you tell us more about your role supporting library research and instruction?
Andy: I recently began a new position at USC Libraries as a visualization librarian. I still work with maps and GIS, in fact I am the department liaison to USC's Spatial Sciences Institute, but this new role has given me the opportunity to do much more with data and thinking about how to work with it. In particular, I am trying to emphasize the importance of how information is presented and your relationship to data. What I mean by this is taking a closer look at the process of making a visualization, of collecting and using data, and the tools and methods that we choose to use. One thing that still often frames my workshops or consultations is bringing to the forefront how place and space impact research questions. I think this allows me to talk more practically about how a tool might be used to answer or pose a question.
In terms of working with students and faculty I have developed (along with our data librarian and a few others) a workshop series that addresses and supports different aspects of the data life cycle. The workshops are stand alone but they are also designed to be taken together so that skills and concepts are reinforced and built upon. A great example of this is we have a workshop on neighborhood data—what it is, and how to find and start using it. This workshop then leads into a GIS workshop in which we use that data with different software and tools. Something else I have tried to explore in developing and providing workshops is partnering with other librarians who might have relevant collections that they work with that are particularly well-suited for visualizations or mapping.
For example at USC, we have a great mural archive as well as different photo collections and architectural collections. The metadata that underlies these collections can be used with something like Tableau in order to get a better sense of how to use it to answer research questions in different disciplines. This is very much influenced by and in support of the collections as data movement that Thomas Padilla and others have done such amazing work on.
Ray: That's very interesting to hear about using different data visualization tools to answer research questions across the disciplines. What advice do you have for instruction librarians who want to incorporate maps into their workshops, particularly those who don't have a large map collection?
Andy: One of the best ways to work with maps is to make them yourself! I have found with both undergraduate and graduate students the process and experience of cognitive map making—making a map from memory—about a specific place or theme to not only be fun and rewarding but it also introduces a whole range of information literacy skills. One of the most important lessons learned from this type of experience is better understanding the process of how knowledge is produced, I especially like to focus on how data is created. When students make their own maps they almost always create place names for neighborhoods and other landmarks and features. This provides a perfect opportunity to explore how those names are created, who gets to name, how those names change over time, etc.
This really pushes students to be more critically aware of the data they find, use, or create. This exercise also creates a solid bridge to web mapping. Creating a hand drawn print map provides a prototype that translates into making simple and readable online maps using free tools and software such as ArcGIS Online, CARTO, and Tableau. One of the things that you can easily do from this type of exercise is collectively build a map around a theme, for example sustainability or mobility or health. Students can create points of interest about health (hospitals, parks, etc.) and then once those are mapped you can begin to develop questions. Where are hospitals located? Why? What do pollution rates look like? Who is impacted? The list goes on. The challenge is to move beyond just putting "points" on a map and developing questions about what those points mean for people. Connecting the data to the lived experience of communities in order to address research questions and problems.
Ray: Those are excellent points. In the past, I've co-organized GIS Day in the Library before and have encouraged students to explore different GIS tools in a workshop to see how they would reframe their research questions in their disciplinary contexts. What's next for you? What are you working on to support information literacy through maps/GIS?
Andy: One workshop model that I have been developing (and I feel like it will always be in development) is focused on creating your own digital mapping project that breaks down technological barriers and puts into question what software and tools you use for a project. The workshop idea began a few years ago because increasingly students and faculty ask about how to create accessible projects that live online. For many of these projects a server would be required in order to host a historical map. The goal is to provide/create a digital ecosystem where you can spatially think about or approach a research question and then also be able to share your findings.
One part of this workshop that really excites me is thinking critically about the tools and software that support mapping and GIS work. In particular, Professor Safiya Noble wrote a great and still very relevant article published in 2011, "Geographic Information Systems: A Critical Look at the Commercialization of Public Information," where she talks about the impact that many GIS providers have on data and mapping practices. Knowing more about this landscape better equips us to choose methods and tools that help to challenge how data is created, commodified, and used.
Andy Rutkowski is the Visualization Librarian at the University of Southern California Libraries. Previously he worked at the University of California Los Angeles holding a joint appointment in the Digital Library Program and in Collections, Research, and Instructional Services at Charles E. Young Research Library. He was the inaugural Interdisciplinary GIS Library Fellow at the University of Southern California. Before moving to the west coast he worked at New York University Libraries as the Reference Associate for Government Documents and Business. He is interested in how GIS applications and methods can be applied to traditional library collections and archives in order to improve discoverability of collections as well as provide richer context and meaning to materials. He is also interested in the role that GIS and mapping can help play in community building and providing spaces for discussion, dialogue, and engagement around a variety of topics and issues.