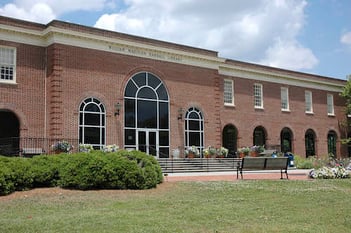 By Tammy E. Ivins and Raymond Pun
FYE Correspondent Raymond Pun recently interviewed Tammy E. Ivins from the University of North Carolina Wilmington (UNCW), Randall Library. From outreach to collaboration, they discussed the library's role in providing transfer student services and activities on and off campus. For even more tips and ideas, see our recent post on helping transfer students succeed.
Ray: Thanks for speaking with us! Can you talk about your unique role, and briefly describe the transfer services activities that you and your library have done recently?
Tammy: My job title is Transfer Student Services Librarian, and I'm responsible for outreach and instruction to transfer students on campus. I attend all of the transfer orientation fairs and send welcome messages to the incoming transfer students (previously, I used mail merge to email the students, but in the past year I've instead contributed to the new transfer student e-newsletter). I collaborate with other departments on campus, particularly the University College with whom I work to provide information literacy instruction to the credit-bearing UNI 201: Transfer Seminar.
At UNCW, we categorize military veterans as transfer students. In addition to representing the library at veteran-specific orientations, I also collaborate with our campus' Military Resource Lounge. I offer research-skill presentations for the veterans (Zotero is a pretty popular subject), and this semester I have started once-a-month office hours in the lounge.
On the periphery of my job's scope, I do some outreach to graduate students, offering workshops through the Dean of Students' office. I also support our early college students (many of whom end up attending UNCW) by providing library orientations to the freshmen and more in-depth information literacy support to the students working on senior projects. I've started becoming more involved at the Early College, hoping to be a friendly, supportive face to any of the high school students who decide to attend UNCW.

Of course, there "other duties as assigned"! I also serve as the liaison to the theatre department (doing instruction and collection development), teach freshmen and English information literacy instruction sessions, and work on the research help desk. Two of my colleagues recently published an article with RSR about the process of adding my position.
Ray: Those are very interesting activities! At Fresno State, I've also been attending transfer orientation events and contributing to the transfer student e-newsletter. Why do you think it is important for libraries to be involved in supporting transfer students?

Tammy: Several years ago, the Community College Research Center identified some troubling data: "over 80% of community college students intend to earn at least a bachelor's degree. However, only about a quarter end up transferring … [and] only 17% complete a bachelor's degree." (Jenkins & Fink, 2015). The transition from community college to a four-year school is a crucible through which many students do not pass, despite their intent to do so. I am one of the lucky 17%; I began at a community college, successfully transferred to a four-year school, and graduated.
The larger conversation about graduation and retention rates exists far above the library at most universities, but librarians have always argued that our services impact student success. It seems paramount, therefore, that we apply ourselves to reaching populations we know are more at risk, including transfer students.
Ray: Thanks for sharing your experiences and thoughts on this. What's next for transfer service support in your library?
Tammy: What's on the immediate horizon here is an increasing look at where our transfers are coming from, understanding their background in order to better help them succeed at UNCW.
I have just started visiting the libraries of our largest feeder schools, as well as some NC community colleges that UNCW is trying to build closer relationships with. The visits are providing me with valuable information about the schools from which our transfers come. Not only will I be better able to make "small talk" with the incoming transfers, but I will also be able to better tailor the library sessions for the Transfer Seminars. I can also advocate for changes in library policy and services to have consistency with our feeder schools, easing the dissonance new transfers may have. Finally, these visits are allowing me to start cultivating relationships with librarians at our feeder schools, which I hope will develop into ways that I can support the work they do.
Later this year, I also plan to overhaul parts of our library instruction to the Transfer Seminars, particularly the assessment. So far in my visits to community colleges, several of the librarians have expressed interest in how transfers from their particular school perform, or what they wish they had learned before transfering. I would like to find a way to incorporate some of those questions into my assessment so I can pass that good data back to the feeder schools.

Tammy Ivins works as "Transfer Student Services Librarian" at the University of North Carolina Wilmington. She received her MSLS from UNC-Chapel Hill, and her BA from Davidson College. Her research interests include transfer students, conflict management, instructional technology, and librarian scholarship. She is a Hufflepuff.