By Heather Snapp and Raymond Pun
FYE Correspondent Raymond Pun recently interviewed Heather Snapp from Florida Gulf Coast University Library. Heather shared her role as the first year experience and outreach librarian, where she works with library student ambassadors to support FYE learning in the library. Heather also discussed her next project, creating research guides on integrating information literacy concepts and objectives for instructors' curricula.
Ray: Thanks for speaking with us! Can you tell us about your role and briefly describe the FYE activities that you and your library have done recently?
Heather: I am the First Year Experience and Outreach Librarian at Florida Gulf Coast University. The majority of my time is spent teaching research instruction sessions and collaborating with departments across campus to reach and support first-year students.
Much of my outreach to first-year students occurs before they start taking classes. During their summer orientation, I greet each tour group as they come through the library. I keep the message short and simple—welcoming them, letting them know I'm dedicated to working with first-year students, and making sure they know they can contact me or pop into our reference desk when they need research help. I also direct them to the Library page in their Guidebook app as a place to look for further questions. Although a large time commitment, it's worth it to get in front of almost 2,700 students in small groups of 10-14 at a time. I also provide tours, orientations, or workshops for specific populations, such as the students in our TRiO and ACES (Accelerated Collegiate Experience) programs.
My next encounter with first-year students is during their move-in day. I started helping with move-in a few years ago and now typically have 8-10 other library faculty and staff who join me. We don't reach as many students as during the orientation tours, but it gives us a chance to show students we care about them and helps us connect more in-depth with a handful of students and their families as we trudge their boxes, duffel bags, and mini fridges to their new dorm rooms.
During the first week of classes, we offer a Library Welcome Event, where students can learn about library services in a themed scavenger hunt and get pictures taken in our photo booth, along with a few other activities. This is a fun, high-energy event where students are learning while not realizing it. That comes later, when I provide 60-80 research instruction sessions in an academic year to students in Composition I and II and our University Transition course. In addition, Composition II students take an online information literacy tutorial created by our Instructional Technology Librarian.
Library Student Ambassadors have also been essential in helping me support first-year students' needs. 2-5 student interns each year, trained in research skills and the library's resources, help students at the reference desk, assist with instruction classes, and help create and carry out programs and special events.
Ray: Those are some really interesting ways to meet and engage with new students! Why do you think it is important for libraries to be involved in supporting the FYE?
Heather: Often, new students who walk into their university library are overwhelmed at the sheer size and number of resources available to them. Helping them feel comfortable in the library and know there are people they can ask for help can be essential to their success. If they learn to use the library during their first year and feel comfortable with the resources, including librarians, they will be able to use that knowledge over their entire college career—and beyond. So many new things come at students that first year; if we can make research easier for them, it will be one less thing for them to stress about.
Ray: I agree with you on that! Final question: what's next for FYE support in your library?
Heather: I am currently working on creating more resources for instructors who are teaching first-year courses, especially Composition I and II. I am making a LibGuide with information literacy best practices and reaching out to instructors to help them make assignments with information literacy objectives that are appropriate for first-year students. I also plan to start a blog with information literacy tips to help instructors best serve first-year students.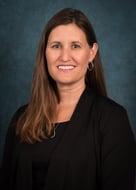 Heather Snapp has been the First Year Experience and Outreach Librarian at Florida Gulf Coast University in Fort Myers, FL, since 2012. She also serves as the Coordinator of Undergraduate Services for the Library. She provides orientations, tours, programs, and instruction to support first-year students. Heather has served on the Florida Library Association's Intellectual Freedom Committee for several years. She started her library career at Parkland College Library in Champaign, IL, and previously taught high school English and journalism and college composition. She received her MLIS and BS in Journalism from the University of Illinois at Urbana-Champaign and her MA in English from Eastern Illinois University.