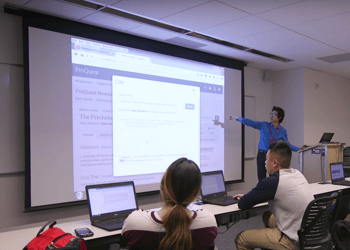 Last Monday, October 8th, many states and cities observed Indigenous Peoples' Day, recognizing indigenous peoples of America in order to appreciate their shared culture, history, and contributions. I've been thinking a lot about this topic lately in relation to my work as an academic librarian.
As instruction librarians, our approach to teaching information literacy runs the risk of becoming stale when we deliver the same presentations over and over again. I've been trying to think of new ways to orient students to the research process and illustrate how the library can help them. Integrating indigenous knowledge into the research process is one approach you may want to consider.
What is indigenous knowledge? It refers to the knowledge system or cultural understandings embedded within local or indigenous communities. These embedded cultural traditions may relate to nature, water, air, land, climate, technology, medicine, agriculture, and so forth. There are ways to reflect on these topics through our own work as instruction librarians. For example, in the ACRL Framework for Information Literacy, "authority is constructed and contextual" and "information has value" frames can be applied in your instruction. Traditional knowledge that is not "Western-based scholarship" can still be viewed as authoritative and reflect how authority is very contextual, as well as the value that knowledge brings to the community.
Indigenous knowledge transcends disciplines and can be integrated into an open discussion. For classes in the humanities, social sciences, legal studies, and environmental and biological sciences, this can be a teaching opportunity to share the various modes of cultural traditions from indigenous communities. By talking about the role of indigenous knowledge in academic scholarship, it may encourage students to pursue these research topics for their own assignments and raise awareness of indigenous peoples, knowledge, and communities.
This is not a simple task that can be automated into your library instruction. It requires a thoughtful approach and sensitivity to bring this topic into discussion. You may also need to spend time researching indigenous knowledge to prepare for the workshop too.
Here are selected teaching resources relating to indigenous knowledge for you to consider:
Credo's Native American Studies LibGuide - Do you have access to Credo Reference and LibGuides? You can embed the content directly to your LibGuides and show students how to find more information pertaining to different tribal groups, and their histories, religions and languages in the United States.
Decolonizing the U.S. History Survey – Professor John Rosinbum in Arizona shares his teaching experiences in utilizing a variety of digital resources including maps, oral histories and other primary sources to "present native voices and deepen our understanding of native history" in the classrooms.
Teaching Decolonization Resources – The National History Center released this fascinating digital collection that offers primary and secondary sources, including documents, articles, and books organized by region and by theme. Instructors at all levels can utilize these resources to "incorporate decolonization into their survey courses, seminars, syllabi, and more." These resources can be integrated into your library workshop, particularly related to visual and digital literacy activities where students can discuss their findings and share their thoughts on indigenous knowledge and communities.
The American Indian Library Association (AILA) — AILA lists many helpful resources, from digital collections to book recommendations to directories of and initiatives by tribal libraries and archives.