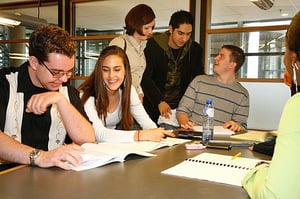 In Student Success in College, George Kuh, the student affairs expert on student engagement, and colleagues note that educators are in many places on an effective college campus, and each has a part in making an engaging college experience for undergraduate students (Kuh, et. al., 2005). Of course, librarians and libraries have much to offer toward these efforts.

Librarians are in a unique position, being in both the curricular and co-curricular worlds. Our organizations are often in the academic structure of the university for budget and administration purposes but we generally don't teach or oversee for-credit classes and majors like most of our colleagues in academic departments. Students are generally in our spaces by choice, outside of class. Yet we don't have to manage all that comes with the student affairs responsibilities of organizing student activities, housing and dining, and other locations where students go by choice. It's as if we have one foot in each world.

Making the most of both worlds is the key to libraries and librarians being part of an engaged campus.

Student engagement has two components:

1) The amount of time and effort students put into their studies and other activities that lead to student success outcomes and experiences

2) The ways the institution allocates resources and organizes learning opportunities and services to encourage participation (Kuh, et. al, 2005)

At first glance, it might appear that the library has little influence over these components yet because we have a foot in both the curricular and co-curricular worlds, we can have a significant impact.

The physical library space offers an excellent opportunity to foster engagement. How might it be made to encourage additional time and effort by students on the things that will lead to their success? Many libraries have reconfigured their layouts to make them more flexible and adaptable. At Ohio State University, we moved lesser-used items to closed storage facilities (with frequent delivery) in order to create more study seats in flexible areas. Students need both quiet, individual study spots, as well as places for group study and meetings. Sometimes overlooked is the need for student organization meeting space. Leadership experiences, such as roles in student organizations, are critical learning experiences and are key factors in engagement. Make it easier for students to reserve and use library spaces and you will help them to have more time on task.

Organizing learning opportunities is another area in which libraries can contribute to engagement. Librarians have long created research guides and held workshops. Unfortunately, these resources are often underused.

Make it easy for students to discover your offerings when they need them by putting them where the students are.

Add the subject and course guides to your institution's learning management system, ideally at the course level. In 2015, the Instructional Technologies Committee of the Instruction Section of ACRL published a tip sheet about different ways of integrating library resources into your LMS.

Get the workshops listed in other campus workshop series, ideally ones that include a strong incentive or requirement to attend. Some first year programs include a workshop series of offerings from across campus and a requirement that students attend a set number. The students choose which ones to attend. In addition to getting the library sessions included in the series, make the library sessions fun and useful to students so they want to attend them.

When making decisions about space, services and policies, think in terms of encouraging student engagement, even in these non-instructional activities, and soon the library will be a key partner in your engaged campus.

References
Kuh, G., Kinzie, J., Schuh, J. H., Whitt, E.J., & Associates (2005), Student Success in College: Creating Conditions That Matter, American Association for Higher Education, Washington, D.C.
Farkus, Meredith Gorran. (Summer 2015) "Libraries in the Learning Management System." Tips and Trends: Instruction Technologies Committee. https://acrl.ala.org/IS/wp-content/uploads/2014/05/summer2015.pdf