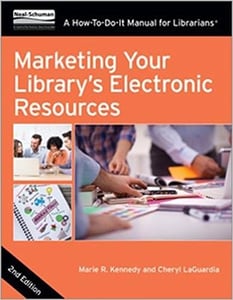 By Marie R. Kennedy, Cheryl LaGuardia, and Raymond Pun
FYE Correspondent Raymond Pun recently interviewed Marie R. Kennedy and Cheryl LaGuardia, co-authors of Marketing Your Library's Electronic Resources: A How-To-Do-It Manual For Librarians (Second Edition). They shared their thoughts and marketing strategies for promoting e-resources to students, particularly those in the FYE.
Ray: Congrats on your 2nd edition! Can you share some of the exciting tidbits you've brought to the new edition?
Marie and Cheryl: Thank you, we were so pleased to be asked to write this edition. We loved hearing from the readers of the first edition about what they liked about the content and structure, as well as what they wanted more of. We incorporated all of that feedback into this edition, including even more marketing plans than the first, as well as a downloadable template to help our readers get marketing quickly. We can't wait to hear what our readers think of the template, and how they will extend and improve it. And our ears are always open to hear about new marketing plans readers have found to be helpful.
Ray: Many libraries struggle to promote their e-resources to students in general but what advice would you give to librarians trying to market e-resources to first year students?
Marie and Cheryl: One of our goals for the book is to inspire our readers to start conversations they may not have had at their libraries before, to begin to develop a culture of knowing patron needs and responding directly to them. We know that our first year students are time challenged, and so pointing them to the perfect e-resource they can access from their dorms as they are crunching through a deadline is key. We've seen librarians construct subject guides that include a list of relevant databases, e-books, e-journals, and streaming content; those have turned out to be popular "quick start" guides for the busy student.
A very powerful hook we've used in library classes is a simple statement of fact: "We know you can find some resources for your papers using Google. If you're working to get an "A," however, you'll use the e-resources the library offers. They're generally much more scholarly and are the kinds of sources your professors want to see referenced in your bibliographies. And if you learn to use them early in your college career, chances are they'll help your grades rise – a lot."
Ray: Social media platforms are constantly evolving and changing. What are your thoughts or advice on keeping up with the new trends to promote library resources?
Marie and Cheryl: One of the ways we've observed librarians effectively participating on social media is to acknowledge the lives their patrons are living, to let them know they're heard. In the book we point to a couple of examples in which librarians use social media as a listening platform as well as a conversation starter. Really, for us, the platform isn't the important thing, it's the conversations. Experimenting with new tools and platforms is fun, too. If you can find out which are the main social media platforms used by your students, and post in language that will "speak" to them (rather than in "libraryspeak"), you'll have a powerful marketing tool that can reach your primary users fast and effectively.

Marie R. Kennedy is the Serials & Electronic Resources Librarian at Loyola Marymount University in Los Angeles, CA, and the project co-director for the Institute for Research Design in Librarianship. Her interest is in the development of the personal research networks of librarians. She maintains a blog at orgmonkey.net and is active on social media; follow on twitter at @orgmonkey.

Cheryl LaGuardia is a research librarian in Widener Library at Harvard University. She has been awarded both the Isadore Gilbert Mudge Award and the Louis Shores Award from the American Library Association's Reference and User Services Association. She edits Magazines for Libraries,™ a professional reference tool providing critical evaluations of journals to aid librarians in creating and maintaining quality collections, and writes and edits the Magazines for Libraries™ Update blog, an online resource providing free reviews of both open access and subscription publications for all types of serial collections. She reviewed electronic library resources for Library Journal for 25 years, winning LJ's premiere eMedia Reviewer of the Year Award in 2000; she also wrote the Not Dead Yet blog for Library Journal. LaGuardia is the author of a number of books directed at librarians, including Marketing Your Library's Electronic Resources: a how-to-do-it manual, second edition (co-authored with Marie R. Kennedy, Neal-Schuman, an imprint of ALA) and Becoming a Library Teacher (co-authored with Christine K. Oka, Neal-Schuman Publishers, 2000). LaGuardia is a member of the Editorial Advisory Board for the professional journal, Reference Services Review: reference and instructional services for libraries in the digital age. At Harvard Cheryl is the library liaison to the Center for Jewish Studies, the Center for Middle Eastern Studies, the Committee on Regional Studies -- East Asia, the Department of East Asian Languages & Civilizations, the Department of Near Eastern Languages & Civilizations, and the Freshman Seminar Program. She previously worked in reference, library instruction, collection development, interlibrary loan, database services, and access services at the University of California at Santa Barbara's Davidson Library and at Schaffer Library, Union College, in Schenectady, New York.