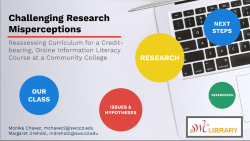 As you no doubt tell students, research is a conversation, and this week the conversation involves student misperceptions of the research process.
This is a topic recently explored in a 2018 paper by Lisa Janicke Hinchliffe, Allison Rand, and Jillian Collier, all librarians at the University of Illinois at Urbana-Champaign. Their work, "Predictable Information Literacy Misperceptions of First-Year College Students," in turn continued a conversation, as it leaned on Understanding by Design by Grant Wiggins and Jay McTighe (2005), a seminal book on instructional design that discusses how, in all fields, "any domain of learning, instructors will have developed a sense of the typical errors learners make." In their paper, Hinchliffe, Rand, and Collier describe a study they performed (the research-gathering step of the study was sponsored by Credo and Hinchliffe presented a related Credo webinar) in which they interviewed librarians about first-year students' misunderstandings about the research process. Freshman students, they found,
Believe they are supposed to do their research without assistance.
Perceive the library as only a place to get books or to study.
Believe that research is a linear, uni-directional process.
Believe that freely available internet resources are sufficient for academic work.
Think Google is a sufficient search tool
Believe that accessibility is an indicator of quality.
Believe that they are information literate.
Believe that all library sources and discovery tools are credible.
Think that every question has a single answer
Building on this work is a new poster that is available as part of this week's Distance Library Instruction Virtual Poster Session by the ACRL's Distance Learning Section (DLS). The poster, "Challenging Research Misperceptions," is one of 40 presentations that cover myriad issues of concern to today's IL librarians.
Created by Monika Chavez and Margaret Drehobl, both librarians at Southwestern College, Chula Vista, California, "Challenging Research Misperceptions" focuses on the authors' work with students to help them understand internet research. The authors analyzed the work with two questions in mind:
What perceptions do undergraduate students have of research?
What strategies are most effective for creating engagement in an online learning environment?
Read more about the study and add your comments about the poster here; some comments already address further work on this topic, also furthering the "research as conversation" pattern.