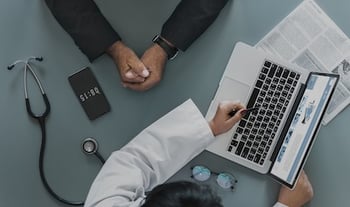 As we wrote earlier in this interview with Anna Yang, librarians play a critical role in teaching information literacy and other foundational skills to students in the health sciences. It's no secret that, across all disciplines, library instruction can have a positive impact on everything from retention to GPA-levels to graduation rates. Clinical professions' reliance on strong research skills, however, creates a unique need for library support in this quickly growing field.
First Year Orientation Isn't Enough
A growing number of schools offer information literacy and research instruction during students' first year on campus—and that's great! This helps lay a solid foundation for successful academic habits. But in this survey of librarians working with medical programs in the US and Canada, respondents emphasized the desire to increase contact with third-year students in order to ensure ongoing learning. Add to this the lesson of Daniel Willingham: in his seminal 2007 article on critical thinking instruction, he noted the importance of teaching this skill in the context of subject matter and practicing these strategies across a number of settings.
Medical Professionals Are Susceptible to the Same Bad Habits as the Rest of Us
As early as 2003, research was already indicating a tendency for medical professionals to rely on the open web over scholarly journals when conducting research. According to this report, "Librarians and occupational therapy faculty must intensify their efforts to convey the importance of applying research information to patient care and inform students of ways to access this information after they graduate."
An interesting study from 2011 looked into how well young clinicians recalled their information literacy training from college and the results were… not great. Researchers found that "Most participants recalled the training they received but had not retained high‐level search skills, and lacked skills in identifying and applying best evidence."
How Librarians Can Address These Needs
Limited budgets, staffing, and time are all obstacles to providing this type of discipline-specific instruction. Building up subject expertise and creating materials from scratch can seem daunting.
Flipped and online instruction make the most use of limited classroom time and deliver strong results for your efforts. Studies in nursing and health sciences have shown such strategies to improve grades, increase student engagement, and strengthen partnerships between disciplinary and library faculty.
If you're interested in exploring such an initiative at your institution, Credo is currently offering a discount on our ACLR-aligned multimedia teaching and assessment platform through our Instruct: Health Science early adopter program. Let us know if you'd like to learn more!