Join the InfoLit Learning Community now. Already a member? Log in here.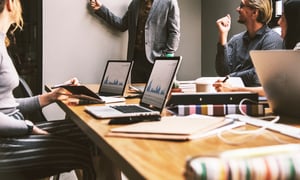 Planning and running an information literacy program is challenging enough—the extra steps involved in marketing your work can sometimes fall by the wayside. We've lately put together some materials that help make marketing easier and that can even get faculty doing marketing on your behalf.
Credo's IL Strategy Handbook: From Planning to Assessment, a Guide to Creating a Successful Program
The first section of our IL Strategy Handbook covers informal marketing efforts such as elevator speeches as well as more structured efforts including marketing through newsletters and outreach to parents.
Getting Started with Instruct
Give this "Getting Started with Instruct" flyer to your faculty to help them understand the importance of information literacy and how Credo's resources can help them save time in the classroom and impart fundamental skills to their students.
Example Curriculum Mapping of Instruct Multimedia
How can the multimedia included in your subscription match your institution's curriculum? See our curriculum mapping suggestions for ideas of where to use Credo's videos and tutorials so that they can best match with common learning outcomes.
Instruct Multimedia Aligned with Research Assignment
Get Credo's material working for you by using the multimedia in an assignment. This handout gives you a head start by showing how Instruct's videos and tutorials can help students to complete an annotated bibliography assignment over several weeks.

Join the discussion on library marketing and other topics in our InfoLit Learning Community.

Already a member? Log in here!