Join the InfoLit Learning Community now. Already a member? Log in here.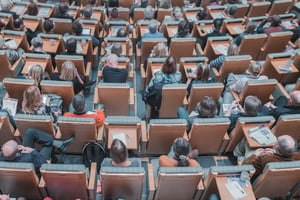 Accreditation has been on our minds lately at Credo, as we're currently updating our list of which of the various accrediting bodies' requirements are met by each of our InfoLit Modules—we'll soon share that new information in our Learning Community.

One of the resources that continues to inform our thinking on accreditation is a webinar that we presented last year. In it, Kate Sawyer, a consultant who specializes in assisting libraries that are preparing for "the big day," discussed why librarians should view an accreditation review as an opportunity; Sawyer also has strong feelings on which opportunities libraries should squeeze through while they have the chance.
Most accreditation agencies are asking for more accountability, says Sawyer, including from students, and that means that they want to see meaningful assessment practices. In the past, she notes, assessments too often covered only surface-level knowledge, asking about rote learning of content rather than assessing real understanding. So genuine understanding could be lacking. In addition, says Sawyer, employers require graduates to have not only subject-specific knowledge, but the soft skills that can't be so readily taught. Technology skills, in particular, are not enough, says the librarian. Furthering the problem is academia's reaction to hearing that their graduates aren't able to get jobs because they don't have the right skills. Their traditional response has been to add more courses to try to remedy students deficiencies, but the extra courses still don't include a course outcome of deep knowledge, which is what employers seek.

Sawyer discussed two studies that confirm these problems. A 2016 Payscale and Future Workplace study revealed that only half of managers feel that college graduates are prepared for today's workforce. Similarly, McGraw-Hill's 2016 Workplace Readiness Survey found that only 40% of college seniors felt ready for work, though they thought they had the soft skills they needed. Asked about those soft skills, 60% of managers felt that critical thinking/problem solving was the skill most lacking in today's graduates.

One issue, says Sawyer, is that soft skills are often emphasized in first-year-experience (FYE) programs, but not thereafter, even though students still need the help in later years. "Siloing" of faculty and students into different departments is a reason for this, says Sawyer—interdepartmental and inter-year communication is rare, so that faculty don't speak to each other enough to realize that soft skills are lacking at all levels and among students of various majors.

"Career skills are a process learned by repetition and exposure," says Sawyer, commenting that this is not a widely enough held view. We have to teach soft skills in a loop. This means that later lessons you'll build upon skills learned when they were Freshmen." She recommends reminding students of that as you're doing it, by saying things like, "remember how we talked about this when you were a Freshman?"

An actionable idea that you might be able to quickly add to your IL instruction is to give students talking points regarding the soft skills they've learned so that they can discuss them in interviews. Figure out what you want your students to learn in terms of soft skills and speak to them about those expectations, recommends Sawyer, commenting, "We have to do a better job of instructing students about what employers are expecting and intentionally instructing students how to prepare for and make the transition from college to career, and then we have to assess this instruction within each program of study or major."

For more on the necessity to teach soft skills and accreditation as an opportunity to do that, listen to Kate Sawyer's webinar, which is available for free. And please join us in the InfoLit Learning Community where we share resources related to accreditation and much, much more!