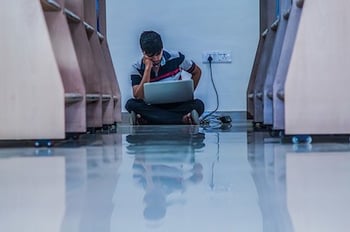 One of the challenges of working with second-year students is finding them: unlike first-year students, who can often be located thanks to FYE programs, second-years aren't as easy to connect with. While more campuses are building second-year programs (46% of institutions that responded to the 2014 National Survey of Sophomore-Year Initiatives reported offering such programs), they take a variety of forms. In fact, most of the initiatives have only been in existence 2-5 years and are likely not as comprehensive as their first-year counterparts.
Inspired by the National Survey of Sophomore-Year Initiatives, here is a list of tips for finding second-year students on your campus:
Focus on the nicer residence halls: Some institutions require that second-year students live on campus as part of their sophomore program. One of the enticements will be the opportunity to live in the recently renovated or newly built residence halls. Connect with the hall directors to see if they are seeking academic programming in those halls.
Look to learning communities that include second-year students: Many of them already feature programing and might be open to adding a library component.
Be a mentor matchmaker: Second-year students are often more ready to seek undergraduate research than incoming first-year students, and these seekers often need help finding mentors. Make a LibGuide and offer a workshop on using databases such as Scopus and Web of Science to identify potential mentors.
Reach out to academic advisors: As many second-year programs focus on academic advising, connecting with these partners is critical. Find the coordinators of advising on your campus and ask about joining regular meetings of advisors to hear about the challenges they see and to identify ways your library can assist them in supporting second-year students.
Partner with the campus Career Center: Many sophomore success initiatives are career focused. Make short bookmarks with tips for researching companies and include a link to a LibGuide or subject guide on the topic. Offer workshops with the Career Center on preparing for internship interviews—they can cover the resume and interview questions while you focus on the preparatory research.
Team up with student affairs professionals and others around class events: They often need help with these events, perhaps even advisors for trips. Find out who is offering the event(s) and see what help they might need. Start small with connections to relevant library materials, perhaps Credo Topic pages on the theme.

Source: Keup, Jennifer R. (2015) "National Research and Trends on Curricular and Co-curricular structures: Supporting the Success of Second Year College Students." Presentation at AAC&U Centennial Annual Meeting, Washington, DC, January 21, 2015. Accessed at: http://sc.edu/fye/research/research_presentations/files/2015/2015%20AAC&U_Sophomore%20Presentation%20(1).pdf

Beth Black is the undergraduate engagement librarian and an associate professor at The Ohio State University. She helps undergraduates learn about how the library supports their success through integration of library information and resources in a variety of student experiences. She focuses on first- and second-year students, working closely with Ohio State's award-winning First Year Experience and Second-year Transformational Experience Program (STEP).