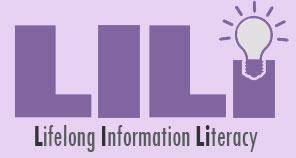 Last week, I attended the 5th annual LILi Conference held at the Glendale Public Library in California. The theme was, "It's Not Just Academic: Bridging Gaps with Information Empowerment in All Libraries" and explored information literacy services and programs provided by different libraries including public, academic, school, and others.
In this half day conference, it was a great opportunity to meet librarians and library workers interested in developing new strategies, partnerships, and resources for supporting information literacy efforts. From instructional design practices to technology training workshops in a public library, I've included a few highlights here:
Spread Knowledge and Build Community with Reddit / r / ask Forums

by William Jacobs – In this presentation, Jacobs described the functions and purposes of Reddit, a social news aggregator and site for supporting lifelong learning through information and content sharing features. The topics can focus on anything from politics to food, and any user can post a comment or a response to queries posed by another user. These active "discussion-board" interfaces can be interesting ways to build a community of experts, although users should be wary as Reddit's openness allows for non-experts to chime in as well. Sub-Reddit pages like

Data is Beautiful also offer interesting opportunities for instruction. I've

used Data is Beautiful to teach first year students to find data sets and graphs they find appealing, then search for scholarly articles on the topic in support of their arguments. Jacobs encouraged attendees to explore the site and think of new ways to engage with the information community, such as creating an "Ask a Librarian" forum for library users to ask research questions.

Zombie Outbreak: Gaming library Student Equity and Outreach

by Eva Rios-Alvarado and Brian Young – Imagine that your students have 45 minutes to find an antidote before everyone in the library turns into a zombie? How well do you think they will do in solving a series of research clues in 45 minutes? In this session, the presenter shared how the "Zombie Outbreak Workshop" successfully introduced students the basic concepts and skills in scholarly research. Rios-Alvrado explored best practices in gamifying an information literacy workshop based on an escape room scenario for students in teams to compete in. In the workshop, students were introduced to the library's spaces, resources and services in the process. Rios-Alvrado recommended the use of "gating," which requires players to master a particularly skill such as book catalog search before moving to the next stage. In addition, the alteration of the light and sound can instantly change the mood of the activity and that can be helpful to enhance the learning experiences of the students.

Reading is Fundamental: Using the Reading Apprenticeship Framework to Encourage Metacognition and Empower Patrons

by Susan Hoang – In this interactive session, Hoang presented the concept of "reading apprenticeship" as a framework to teach reading strategies in K-12/higher education institutions. Reading apprenticeship focuses on our identities as readers and encourages us to think about our personal relationships to the information that we encounter including texts, images and media. Hoang gave opportunities for attendees to reflect on the challenges that they faced when reading texts and images. Are we able to metacognitively question, predict, visualize, summarize or make connections to readings? Students may have trouble reading and interpreting the scholarly articles in their research. Thus, it is important to apply reading apprenticeship concept in our work as instruction librarians so students can become more resilient and think critically when they encounter such sources.

Visit Santa Ana College Library's page for more information on this topic

.
For other sessions, visit the LILi LibGuide to access slides and notes. If you are interested in attending smaller and affordable conferences that are focused on library instruction and information literacy pedagogies, consider LILi for next year or conferences such as LOEX, CCLI or Library Instruction West.
---