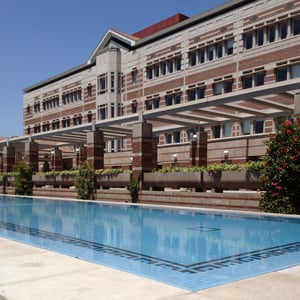 By Christal Young and Raymond Pun
FYE Correspondent Ray Pun spoke recently with Christal Young of USC Libraries about her work supporting first year experience programs through a number of creative activities and engagements. In this interview Christal shares her thoughts on the importance of the library's role in facilitating connections for students who are new to campus through many interactions and services including a virtual hub.
Ray: Thanks for speaking with us, Christal, can you tell us about your role and briefly describe some of the recent FYE activities at your library?
Christal: I am a Reference and Instruction Librarian at Leavey Library, USC's general education library. I am also the Library First Year Experience Coordinator for Leavey, a program I am building from the ground up. Many of the FYE activities we have done have centered around introducing students to the many ways that the libraries and librarians can help them. Last Fall, I created an activity that asked student to envision what success looked like for them. They wrote their visions on post-it notes and we displayed them, along with library resources on essential first year themes, in the library to encourage other students. The themes included time management, health and wellness, research and developing information literacy skills, building and maintaining lasting relationships, and more. In the Spring, I created an origami/fortune teller activity that helped students identify ways to improve their time management, avoid burnout, and seek help with research when needed.
Ray: I agree that we should be creatively teaching life skills to first year students who are new to the academic culture. Why do you think it's important for libraries to be involved in supporting the FYE?
Christal: The experience gained during the first year of a student's time at a university greatly contributes to their academic progress during the rest of their collegiate career. Adjusting to the university community is vital to the success of every student. It is important that libraries are involved in supporting FYE because we can provide a different kind of connection to the campus than teaching faculty or student services. We are able to create opportunities for student adjustment, success, and retention by increasing their awareness and informed navigation and use of physical, virtual, and social library, as well as other campus, resources.
Ray: The library can and should support student adjustments and transitions since it would be a clear indicator of its value and impact on student success and retention. What's next for FYE support in your library?
Christal: Big things are in store from the USC Libraries! This Fall, we plan to roll out additional events and workshops for FYE as well as a virtual hub for students, librarians, and faculty. This online resource will serve as a one-stop shop for students to gain quick but valuable information that will help orient them to the university as well as the libraries, and will also equip librarians and faculty with resources to support their students as well.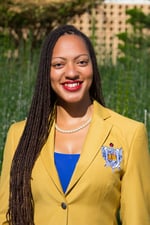 Christal Young has been a Reference & Instruction Librarian at the University of Southern California since 2014. Her subject areas include U.S., British, & Canadian History, American Studies & Ethnicity, and Library Science. Christal received her B.A. from USC in American Studies & Ethnicity with a concentration in African American Studies and her Masters in Library Science from the University of North Texas. Christal is heavily involved in the USC Libraries' Undergraduate Orientation Group and the Reference Taskforce. She currently serves as the library liaison to the University's Committee to Eliminate Homelessness as well as the liaison to USC First Generation Taskforce. She is the current chair of the California Academic Reference Librarians Discussion Interest Group-South (CARLDIG-S). Her research interests include library pedagogical and outreach support for first year experience and international students. Christal is the co-author of 2 forthcoming book chapters on Library Outreach and Outreach to International Students.
---