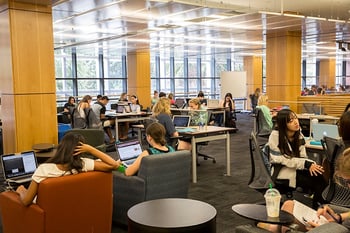 By Lisa Campbell and Raymond Pun
In this interview, FYE correspondent Ray Pun speaks with Lisa Campbell, an academic librarian at the University of Florida, about her work supporting first year students. Lisa talks about collaborating with student support programs such as AIM and PODEMOS, and discusses her strategy for overcoming the challenges of providing instruction at an institution with such a large student population.
Ray: Thanks for speaking with us! Can you tell us about your role and briefly describe some of your library's recent FYE activities?
Lisa: In my role as Instruction and Outreach Librarian, I coordinate instruction requests from first-year courses and develop guides and resources for student research and information literacy. I also provide library instruction to groups and programs that support undergraduate student success, such as AIM, a program designed to help students transition to college, and PODEMOS, a program for first-year Hispanic-Latinx students.
In a recent AIM workshop, I started by asking students to think about the things that the library has that they'll need to be successful. They shared some things like study space, books, and the essential to us all, coffee. I then put up a slide of the library resources that I thought would benefit students and I asked them to tell me which resources they wanted to learn more about, allowing them to have some control over the content covered. Although this student-centered approach requires some flexibility on my part, it really allows for an engaging learning experience. At the end of the workshop, I asked the group to write down the things they thought they would need, and I was happy to see the addition of things like databases, workshops, and (wait for it) librarians.
Ray: That's a great way to identify needs and areas of support that the library can provide. Why do you think it's important for libraries to be involved in supporting the FYE?
Lisa: I think it's really important for librarians to be involved in supporting first-year students, as information literacy is essential to their academic success. We know that students who use the library, have library instruction, and develop their information literacy skills are more likely to succeed, so I think it's important to connect with them in their first year.
Ray: That's true, there are many reports that suggest students in classes that receive library research workshops tend to better. What's next for FYE support in your library?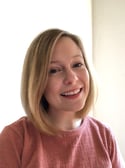 Lisa: Since we have such a large student population, we are working towards developing online resources that can be integrated into undergraduate courses. We've recently enabled our introduction to library research guide to be included in the navigation of our Learning Management System (Canvas), and it's already getting thousands of clicks.
Lisa Campbell is the Instruction and Outreach Librarian at the University of Florida. In this role, she strives to create learning experiences that engage students and develop information literacy. She's interested in active learning and design thinking, and how we can think creatively to enable learning.