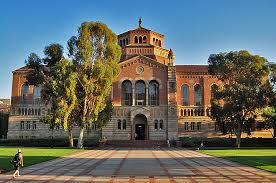 By Annie Pho and Raymond Pun
With rich library collections and services, UCLA is considered to be among one of the top academic research libraries in world. In this interview, FYE Correspondent Ray Pun interviews Annie Pho from UCLA Library. Annie shares how the library supports FYE through a number of activities including the common book program, embedded librarianship, and collaborative assessment services.
Ray: Thanks for speaking with us! Can you tell us about your role and briefly describe some of your library's recent FYE activities?
Annie: As the UCLA Cluster Coordinator for the Library, I oversee the Library's engagement with a general education, interdisciplinary, year-long course that is geared towards first-year students. The Library supports this program in many ways, we have liaison librarians for each Cluster Course. As liaisons, librarians teach library instruction, attend classes, create research guides and online tutorials, and provide research consultations for the students. Additionally, we hire and train student employees called Embedded Inquiry Specialists to also attend these classes and provide research and writing help for the students enrolled in the Clusters. These student employees are students who have taken the Cluster class and have excelled in the class. They are nominated by the faculty teaching team to be hired into this role to provide academic support for first-year students. These students also attend lectures and faculty teaching team meetings (which is the embedded part) and plan community events for the FY students. The other major part of my job is overseeing the students who are hired into this role.
In addition to supporting the Cluster program, our library supports FYE in a variety of ways. Librarians have served on the UCLA Common Book committee which selects a book for the FY students to read and plans programming around it. I also serve on the FYE Advisory Board where I also get to learn and give feedback on the variety of initiatives that our FYE office is planning. I really enjoy working on FYE initiatives, they're very rewarding.
Ray: Those are some exciting activities. I'm happy to hear that you get to serve on the FYE Advisory Board. In these committees' work, you really get to learn more about FYE in campus-wide efforts and directions. Why do you think it's important for libraries to be involved in supporting the FYE?
Annie: One of the reasons why I think it's important for libraries to be involved with support FYE efforts is because it plants the seeds for student success for the rest of their academic careers. Students are dealing with a lot of things when they first start in the university, but know at least where they can go to ask questions or get help on assignments is key, even if they don't remember everything that might be taught in a library instruction session.
Ray: I agree, a lot of times, the library is a central hub to connect first year students to other pertinent resources and services across campus. What's next for FYE support in your library?
Annie: We have been very fortunate to have built a solid partnership with the Cluster Program and the Undergraduate Education Initiatives Office at UCLA. This upcoming year will be the second year that we've been able to have an Embedded Inquiry Specialist in all of the Cluster courses. Our hope is to continue to improve the program and plan on some assessment of how the Library's role in the Cluster program has impacted student success past the first-year.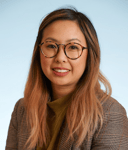 Annie Pho is currently the Team Lead for Research Assistance and an Inquiry and Instruction Librarian at UCLA Library. In her role at UCLA, she wears many hats, including providing leadership for the Library's research assistance services, serving as a coordinator and liaison for the Cluster Program, as well as coordinating events and exhibits for Powell library. She is the selector for Powell Library's Graphic Novel and Travel collection, so email me your suggestions! She is passionate about making the library a welcome and creative space for students. She also serve on the editorial board for In the Library With the Lead Pipe, a co-editor of the book Pushing the Margins: Women of Color and Intersectionality in LIS and the co-editor of the Critical Race and Multiculturalism Series for Library Juice Press along with Rose Chou. Her research interests include intersectionality and women of color in LIS, student research behavior, and feminist pedagogy in information literacy instruction. When she is not in the library, she is hanging out with her 2 cats and exploring the city of Los Angeles.