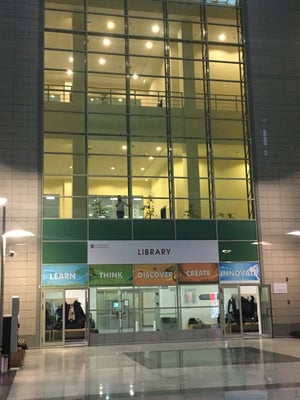 By Paschalia Terzi, Joseph Yap, and Raymond Pun
FYE correspondent Raymond Pun recently interviewed librarians from Nazarbayev University in Kazakhstan to talk about how they reach out to first year students. Introducing students to the "Western" style academic library is a big transition for some, along with the more universal transitions students face when arriving on campus. Their conversation touches on the challenges of building an institution-wide information literacy program, as well as collaborative efforts with various offices and departments.
Ray: Thanks for speaking with me! I visited Nazarbayev University in May 2017, and it was quite exciting to hear about your work. I'm wondering if you can tell us more about your role, and briefly describe recent FYE activities at your library?
Paschalia: I'm the subject librarian for the School of Humanities and Social Sciences (SHSS), which consists of five departments and the writing center. Right now we offer both undergraduate and graduate programs. Most of the first year students actually come from the preparatory studies program that my colleague Joseph is responsible for, so they already possess basic library skills. However, some students come straight from Kazakhstan's high schools, without being prepared for the more "Western" academic library model Nazarbayev University follows. At the beginning of the semester I'm responsible for introducing these students to the library and making them comfortable using our services. Of course this brief instruction cannot compensate for a whole year of studies at the preparatory program, but we urge our students to come visit us for personal consultation if they have any difficulties.
Joseph: I am the Subject Librarian for the Center for Preparatory Studies (CPS) and Graduate School of Education (GSE). As the Subject Librarian for CPS, I handle both the foundation (incoming freshmen) students and the pre-master's enrollees. It's exciting to teach students information-seeking practices, and then watch their evolution as subsequent subject librarians reinforce and deepen these skills. Currently, we are preparing an Information Literacy program for implementation across the university. It consists of four modules: searching for information, evaluating information, citing sources, and avoiding plagiarism. Hopefully, we'll be able to implement this program as one of the core courses for the entire university, which we all think will help in the academic success of our students.
Ray: It's interesting to hear how you support students in the beginning of the semester. Why do you think it's important for libraries to be involved in supporting the FYE?
Joseph: The library has always been a full-time partner in achieving the goals of an intellectual institution, and has a strong impact on the scientific revolution of a nation. The challenge for FYE librarians is ensuring that the knowledge and experiences gained by each freshman student will be retained throughout their academic career and beyond. With a clearly delivered program, the librarian can help every student in his/her daily research tasks. This is a collaborative effort, not only by any one subject, instruction, or reference librarian, but by everyone working in the library. From the leadership of the director down to the hard-working staff of the circulation counter.
Paschalia: They say it's the first impression that counts, that's why the library tries make a great first impression to the students as they enter! Easily accessible and reliable services, and friendly, knowledgeable librarians are what we strive for, hoping our first year students will keep coming back. It is also important to learn how to use the library's resources early on so that one has the skills to tackle assignments and projects later without any trouble.
Ray: I agree - that first impression counts! It's important to introduce library services and resources right away and collaboratively. What's next for FYE support in your library?
Paschalia: There's an effort to better tailor our IL instruction to the curriculum. This includes improving and expanding our first year teaching. For now all the students receive a one-hour library "induction" during their first week at the university, regardless of their level or future studies. Expanding this short introduction and making it more meaningful and effective is our goal. There is already considerable collaboration between the library and the first year Political Science & International Relations undergraduate students, as well as the Economics first year master students, which we hope to strengthen in the future.
Joseph: As mentioned, the IL program is being developed and we are hoping that by fall 2018, it will be implemented. We are partnering with the Writing Center to offer library sessions. With the help of a Fullbright Scholar from the University of California-Berkeley, we will be able to refine the draft learning outcomes, learning objectives, potential topics, and assessments we need for the full implementation of the IL program, not only for the freshmen but for all the students of the university.

Paschalia Terzi is currently the Senior Expert of the Reference Department of Nazarbayev University Library in Astana, Kazakhstan. She finished her Master of Digital Libraries and Information Services from the University of Boras, Sweden in 2015. As a graduate student she received the Erasmus scholarship for an internship at The British Library, UK.

Joseph M. Yap is currently the Expert-Manager of the Reference Department of Nazarbayev University Library in Astana, Kazakhstan. He finished his Master of Library and Information Science from the University of the Philippines-Diliman – School of Library and Information Studies in 2010. As part of his graduate student experience, he joined the 1st International Collegiate Information Literacy Contest in the School of Information Management, Wuhan University, Wuhan, China in July 2010 and won third place. He also participated in UNESCO's Global Media and Information Literacy Week conference in Sao Paulo, Brazil in 2016 and introduced MIL in his former institution. As an active professional, Joseph became the President of the Association of Special Libraries of the Philippines in 2013.