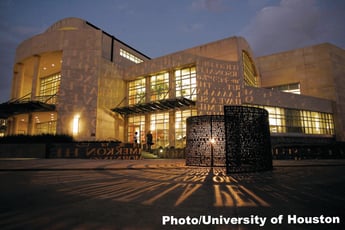 By Ariana Santiago and Raymond Pun
FYE Correspondent Ray Pun talks with Ariana Santiago, Instruction Librarian at the University of Houston, about her work supporting FYE programs and first year students through collaborative efforts and student engagement programs. In this interview Ariana also talks about how she and her colleagues make instruction relevant, engaging, and practical, and how they're working to create a welcoming environment in the library.
Ray: Thanks for speaking with us! We are curious to learn more about your role and what FYE activities you and your library have recently initiated.
Ariana: I've been the Instruction Librarian at the University of Houston for a little over three years, and my primary role is to support students through information literacy (IL) instruction. I consistently teach IL sessions for our First Year Writing program and a writing-intensive, mandatory engineering course. I also contribute to developing our online instruction and support subject liaisons with their instructional needs. Additionally, I'm involved in outreach and instruction to campus partners such as Student Housing & Residential Life and the Writing Center.
I see the instruction program for First Year Writing as a primary way that our library supports the first year experience. It includes two courses that are required as part of the core curriculum for all undergraduate students, so they are high-impact courses for our IL program. We make instruction as relevant and engaging for students as we can by directly connecting IL concepts and skills to their research assignment requirements, and engaging in active learning and the flipped classroom. Recently, we've integrated IL beyond one- or two-time sessions by encouraging instructors to combine face-to-face instruction with our online offerings.
I've also collaborated quite a bit with Student Housing & Residential Life on a variety of programs, particularly in residence halls that house first year students. Sometimes this means promoting the library's many resources, such as subject librarians and laptop rentals. Other times this takes the form of workshops for specific groups, like Community Mentors or first-generation students. Collaborating with Student Housing & Residential Life has been a great way to try out new programming ideas that can feed into other instruction and outreach efforts - and importantly, to find out more about our students' needs by talking with them directly.
Ray: That's interesting that you partner with Student Housing & Residential Life. I think I've been reading more of that trend for academic librarians supporting students in transition too. Why do you think it is important for libraries to be involved in supporting the FYE?
Ariana: Libraries and librarians can support students in so many ways throughout their time in college, but they're often not aware of the resources available to them. In order to help students be successful in their first year and beyond, it's important to raise that awareness while remaining empathetic to the challenges of the FYE. For example, students don't know about subject librarians, so some of our programming at Student Housing & Residential Life focuses specifically on raising awareness of subject librarians (with games and snacks).
Also, many students experience their first college-level research assignment in First Year Writing II. During information literacy instruction, students get hands-on experience developing keywords and search terms, and applying evaluation criteria to their search results. Hopefully this clarifies research concepts that may not have been explicitly taught before, and develops foundational skills that they can carry forward to upper-level research. Because libraries and research can be really confusing, it's important to make the library a welcoming environment, give students a friendly face to contact, and do anything we can to make the library more approachable and helpful for students.
Ray: I agree that we, as library workers, must create an inclusive and welcoming environment for all, particularly new and first year students. Our last question: what's next for FYE support in your library?
Ariana: We're putting more focus on our online instruction program. Currently, we have seven interactive online lessons that we've developed in-house, five of which are primarily used by First Year Writing classes. We're planning to ramp up production of even more online lessons, and continue working with faculty to encourage use of the existing lessons. I'm excited about this because online instruction enables us to impact more students; it's also more flexible, giving instructors more options for how to engage their students with information literacy concepts. With online tools such as these, we aim to integrate information literacy throughout the first year and undergraduate curricula.

Ariana Santiago is the Instruction Librarian at the University of Houston Libraries, where she collaborates on design, teaching, and assessment of library instruction curricula for several undergraduate courses. Before joining UH, she was a residency librarian for undergraduate instruction and outreach at the University of Iowa. Her research interests include information literacy, teaching and learning for undergraduate student success, and diversity in libraries. Ariana earned an M.A. in Library and Information Science from the University of South Florida and an M.A. in Applied Learning and Instruction from the University of Central Florida. Ariana was a 2017 ALA Emerging Leader.