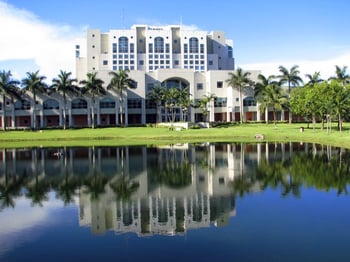 By

Raymond Pun and Douglas Hasty
FYE Correspondent Raymond Pun recently interviewed Douglas Hasty First Year Experience Librarian from Florida International University (FIU). Their conversation explores how FIU libraries support the FYE through enhanced and innovative library services in skills development.
Ray: Thanks for speaking with me! We are interested in some of your activities. Can you briefly describe the FYE activities that you and your library have done recently?
Douglas: [Some of the] activities include providing fundamental information literacy and library awareness lectures, liaising with various university departments including Undergraduate Studies (for the common reading program committee), the tutoring center (providing remedial students with a library refresher lecture), Residential Life (tested a library presence in the freshman residence hall once per week in the evenings), providing information to first year international students, and more.
Ray: That sounds great! Why do you think it is important for libraries to be involved in supporting the FYE?
Douglas: There is a great deal of lost opportunity by not providing library research and information literacy instruction in first- and second-year students. By doing so at the very beginning of the undergraduate experience, foundational library skills and knowledge are implanted in first year students, upon which can be built advanced research skills that will come in the upper division, if not sooner.
Ray: I agree, and I think it's important to address research skills in the beginning and scaffold them. What's next for FYE support in your library? What are your upcoming projects or activities that you are working on now?
Douglas: Expanding outreach by going to the classroom rather than trying to schedule a library visit, more viable now due to the widespread implementation of computer-projected equipment in most or all classrooms; expanding liaison outreach to include transfer students and any new student whom can be seen as a "first year in our university" student.
Bio: In 1990 Douglas Hasty was hired as FIU's first Interlibrary Loan Librarian. He converted the service from paper to electronic/online processing and submitting. He served on a number of ILL-related committees locally, statewide, and nationally. In 2000, he was promoted to department head for FIU Library's Access Services, including ILL, and supervised staff at three campuses. In 2011, he requested to be placed into a new position – First Year Experience Librarian. He now liaises with librarians and university staff throughout campus as the library's representative to the first year students. He received his BA in History from Guilford College, his MLS from University of North Carolina in Greensboro, and is currently a graduate student in the FIU Higher Education Administration PhD program. Douglas is originally from North Carolina and other Southern states. He lives with his husband in Dania Beach, FL, and travels frequently to Thailand to visit in-laws and family.
---