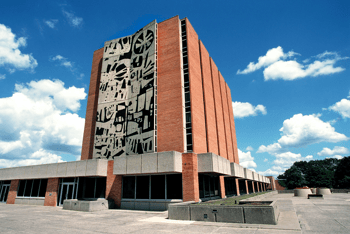 By Rob Snyder and Raymond Pun
In this interview, FYE Correspondent Ray Pun interviews Rob Snyder from Bowling Green State University Libraries (BGSU). Rob discusses his role in supporting the FYE on campus, and his upcoming plans to expand partnerships and support in academic and student affairs programs.
Ray: Thanks for speaking with us, Rob! Can you tell us about your role and briefly describe your library's recent FYE activities?
Rob: I'm the First Year Experience Coordinator for the University Libraries at Bowling Green State University, and in this role, I'm the library liaison to a variety of first-year programs on campus. I also work with a number of our summer bridge programs that students participate in before their first semester here, and I'm also the librarian for the high school students enrolled in our BGSU classes through Ohio's College Credit Plus program (Ohio's version of PSEO/dual-enrollment). We've recently been finding ways to increase support for the growing number of BGSU's College Credit Plus students who need to know about our library's resources in order to be successful in their college coursework while still in high school. This includes developing partnerships with the high school teachers and librarians, as well as our office of Pre-College Programs, to support students through on-campus research workshops. I also provide orientation sessions and workshops for teachers to learn more about our resources and options to assist them and their students from a distance.
Ray: I agree that supporting partnerships is key to ensuring success for students' academic transition to college. Why do you think it's important for libraries to be involved in supporting the FYE?
Rob: I love my job because I think the interactions we have with students early in their college careers can have a positive impact throughout their time at the university. If we can reach students through the FYE program to present them with the resources and tools they need in that first year (or during their first classes here as a College Credit Plus student), then it's easier to scaffold on those skills as we see the students in upper-level classes. And I think students who learn about the resources and support we can offer have more confidence in the work they're doing, knowing that help is there when they need it.
I also think it's important for students to see the librarians as approachable and helpful, and I have the opportunity to engage with them in this way through a number of programs. I teach a variety of one-shot guest lectures, provide workshops and orientation sessions for first-year students, serve on campus committees with a focus on FYE programs, and even teach one of our BGSU 1910 first-year seminars. In this way I hope that students see the library, and the librarians, as an approachable resource to help them be successful.
Ray: It's nice to read about your various roles in supporting FYE in BGSU! What's next for FYE support in your library?
Rob: I want to continue to build on the work we do with pre-college students, including increasing our presence in the various summer bridge programs on campus. I would also like to find ways to increase our presence in BGSU's first-year writing courses in a holistic and impactful way, so that students can build upon the information literacy skills they gain in those classes throughout their career here at BGSU. We have a great team here in the University Libraries, and I'm looking forward to seeing what we can do next to support our students.

Rob Snyder is an Associate Professor and the First Year Experience Coordinator in the University Libraries at Bowling Green State University. He is a graduate of San Jose State University's School of Information. His research interests include the role of the academic library in first year initiatives and outreach to first year students and students in transition.