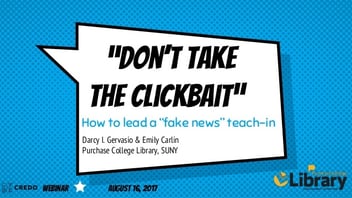 The second installment of our Credo In Action webinar series featured librarians Darcy Gervasio and Emily Carlin of SUNY Purchase College discussing how they combat fake news. Watch the webinar recording here, and view the slides here.
Misinformation has been a problem for as long as the concept of information has been around, however, following the 2016 election we've all had to come to terms with the large scale weaponized version of this phenomenon. We polled attendees to learn about how libraries are addressing fake news.
30% made a LibGuide

21% held a workshop

5% distributed a handout

2% created a display
Darcy and Emily spoke about their creation of a "Teach In" following the election, which involved partnering with professors from the journalism, economics, and political philosophy. A teach in is a great way to add context to a current event as it unfolds, provide a forum for debate, and also giving participants avenues through which to take action.


This webinar contains not only helpful resources to help teach information and media literacy, but also tools like TinEye (find where an image has appeared before) and Image Edited (see if an image has been photoshopped), which are immensely helpful for evaluating social media memes.

Recognizing that many students have become jaded in the "Post Truth Era," Emily and Darcy have tried to show them that the truth is out there, that there are tools they can use to discover it, and that they don't have to resign themselves to lives of passive consumers or bitter cynics.

Catch the full webinar by registering on this page! On August 30th we'll be joined by Ray Pun and Vang Vang for 10 Creative Activities to Support Student Engagement Using Credo. View our calendar to see upcoming events and binge-watch previous webinars.
---