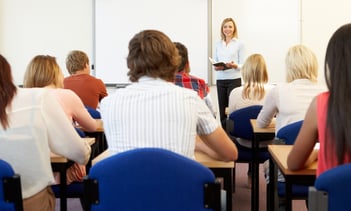 In the era of fake news, biased media, and dubious websites, information literacy (IL) has come to the forefront of essential 21st century skills. Whether strating a paper, or attempting to discern the validity of the Facebook meme a friend posted, the ability to find, evaluate, and use information effectively and responsibly has never been more important. We asked academic librarians how they use Credo Online Reference Service and InfoLit Modules in their IL instruction, and this is what they told us:
"Credo allows us the opportunity to incorporate information literacy instruction into all areas of our curriculum," said Instruction & Research Librarian Jolene Cole of Georgia College and State University. "From first year programs to graduate level courses, [InfoLit Modules] supplement our instruction and in some cases, even replaces our instruction. Faculty are able to incorporate into their learning management systems and we can incorporate it into our Springhare products. It is a dynamic product that takes the stress out of instruction."
Nancy Miller of Northwest College says she impresses upon students in her instruction sessions that Credo Online Reference Service is essential when gathering background information on their topics. "Credo entries and articles not only provide background information and discuss the issues surrounding a topic, but also introduce students to the terminology used by professionals when discussing their topic. When Credo is incorporated into class assignments, we see that students have the background information and terms on their topic that helps them focus their searches when continuing to other resources as well as the open Internet. The quality of student assignments and papers is better."
"As a librarians who teaches First Year Composition, and Argument & Research courses, I use many tutorials from the [InfoLit Modules] in my subject guides and lesson plans," says Elise Wong of Saint Mary's College of California. The Modules are also "a perfect tool in my collaboration with faculty members in our flipped classroom model."
Webinar Alert! Wednesday August 23rd we will be joined by Niketha McKenzie, Kimberly Prosper and Adia Coleman of Howard University on August 23rd (2:00PM EDT) for their webinar, Pre-search to research: Credo as 'Academic Google'. This is the second in our 3-part August webinar series, Credo In Action, where real librarians share innovative ways they use Credo to impact student outcomes.