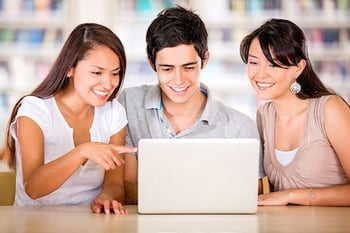 We recently asked librarians to send us their stories of how they put Credo to use helping students. Sol Lopez of Regis University won our contest, and a trip to ALA Chicago, for her submission on how Credo supports her school's first year experience (FYE) program by encouraging students to initiate choosing topics for their research.
"Many students feel overwhelmed during the research process as they lack the needed skills, especially as first year experience students." Credo Online Reference Service "helps them to gather a preliminary scope of background information available on any given topic(s). By using databases such as Credo Reference they are given the perfect means to begin with a broad topic, explore related topics, and narrow down accordingly to their research needs. Tools like Mind Map facilitate the organization of their assignment while reducing stress that is typically experienced during the initial stages of the research process."
Scott Michael Sandberg of Indiana University Northwest uses Credo in the FYE to "[create] comprehensive Libguides, which allow our distant education students the opportunity to peruse a wealth of information. The guides are simple, straightforward, exact, and easy to navigate."
"At Mississippi College," wrote Coordinator of Reference Services, Michelle Finerty, "we are embedded in the Freshman English Courses to help professors introduce students to the library. As a part of the curriculum, we teach the different databases to the students that MC offers. We specifically use Credo Reference because it offers so much information on a variety of topics."
Going to the ALA Annual Conference? Schedule a quick meeting with one of our reps to discuss how Credo can support the FYE and more at your institution!