By Regina Gong and Raymond Pun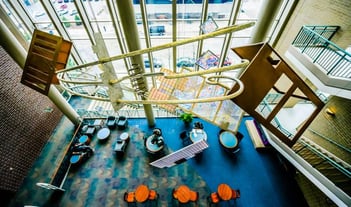 This week from March 5-9, it is Open Education Week! FYE Correspondent Ray Pun interviewed Regina Gong, OER Project Manager and Manager of Technical Services and Systems in Lansing Community College (LCC) on the role of OER in enhancing student learning on campus. Regina also shares her OER initiatives and upcoming projects, and how they support student success.
Ray: Thanks for speaking with us! Open Education Week is currently promoted in different campuses across the world. Can you tell us about your work supporting OER on campus?
Regina: I'm the OER project manager at LCC and manager of Technical Services and Systems in the Library. My OER job involves leading, managing, and supporting faculty in their OER adoption, adaptation, and creation. I also do a lot of training and workshops for faculty on OER, Creative Commons licensing, and OER workflows among others.
Last fall 2017 semester, our Board of Trustees approved a $500,000 allocation that would support our faculty (through awards or incentives) as they convert their courses to using an OER. I'm managing that fund as well as serving as chair of the OER Award Committee. We are now on our 3rd round of applications and it's been received really well by our faculty.
Ray: Congratulations on your approval! Why do you think OER is becoming more important for universities to consider?
Regina: As you know, college is expensive. Aside from tuition, the high cost of textbooks and course materials remain a barrier to achieving college affordability and access. In community colleges where the majority of students receive Pell grants, the cost of textbooks sometimes can be more than tuition. Studies show that the cost of textbooks have a disproportionate impact on the ability of students to succeed in a course just because they forego buying an expensive textbook. Some do not even enroll in the course due to the high textbook cost. That in itself is a problem of access and equity.
With OER, that problem is addressed because these openly licensed materials can be freely used, downloaded, and shared to benefit everyone regardless of their ability to pay. It solves the problem of access because these are available to students on day one (or even before) of their class. It also presents a great opportunity for faculty to adopt, revise, and remix multiple OERs to fit their own context. And in cases where there's not an OER in a particular subject, faculty also have the opportunity to create and share these materials with everyone. This is possible because of the open license (Creative Commons) inherent to OER.
Ray: There are plenty of budget implications for our students when they have to pay for textbooks with limited funds. I agree with you on this matter. What about OER programs designed for first year students?
Regina: For LCC, our OER initiative is designed for ALL students. We are concentrating heavily on OER adoption in introductory level courses, high enrolment, multi-section courses where there is a stable and high-quality OER already existing. That is how we have made a significant impact to our students. As of this semester (spring 2018), we have saved our students $1.5M in textbook costs.
This semester alone, we have 26 courses representing 154 sections that are using an OER with 75 of our faculty teaching those classes. For our first round of OER awardees, we have a group of faculty teaching our First-Year Experience course who will be teaching the course starting in fall 2018 using an OER. Aside from the cost savings of course, our faculty are very excited to revise and remix multiple OER that would make the course more engaging to our students.
Ray: Thank you for speaking with us! We are also curious how OER helps with student retention and success?
Research on OER efficacy shows that it contributes to student retention and success. A number of studies shows students getting a grade of 2.0 or better when using OER compared to traditional textbooks. Since students have access to the course materials, the likelihood of them dropping a course, getting an incomplete, or failing is lessened. The bottom line is that students don't perform worse when utilizing an OER.
As for student retention and success here at LCC, I'm currently working on that research in my capacity as an Open Education Research Fellow. I'm definitely going to share the findings once it is published or even before.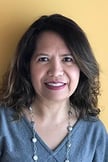 Regina Gong is a librarian and OER project manager at Lansing Community College (LCC) in Michigan. She has been leading and managing LCC's OER initiative since 2015. Regina is also very active in the open education community through her involvement as Executive Council member of the Community College Consortium for Open Educational Resources (CCCOER) where she serves as VP for professional development. She is also in the MI Statewide OER Steering Committee; Program Committee member for the 2018 Open Education Conference, and an OER Research Group Fellow for 2017-2018. Check out the LCC OER LibGuide at http://libguides.lcc.edu/oer and you can follow her on Twitter @drgong.