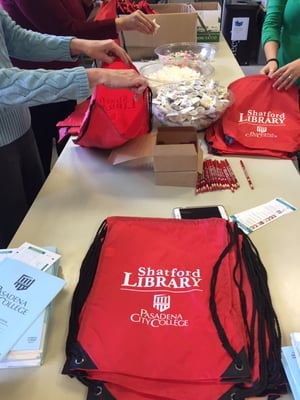 by Danielle Rapue and Duncan Whitmire
Danielle Rapue of Pasadena City College is the winner of our FYE Guide Activity Contest! The judges loved her Finals Survival Kit, and were impressed by how she was able to address prevalent student needs while also bringing new users into the library. In this interview she shares how she made it happen, and how students responded. Thank you to everyone who downloaded The Credo FYE Guide and let us know what you've incorporated in the past semester!
Congratulations on your win! Can you tell us what appealed to you about the Credo FYE Guide, and why you decided to use it in your programming?
Thank you for selecting my entry! I'm thrilled to have the opportunity to attend ACRL this year and connect with library colleagues working with student populations. The programming we did in connection to student engagement is also something I am excited to share with others who might consider something similar for their own institutions.
The Credo Guide appealed to me because of its model of content organization: it was easy for me to jump into a section of interest without having started from the beginning. Student Engagement was particularly interesting to me because we've been looking at ways to connect with our students beyond our normal forms of engagement. Health and wellness really stuck out to me as something to explore further; as our program centered around the finals, mental health was naturally an appropriate theme for us to include.
You were selected as our winner for your Finals Survival Kit. Can you start by telling us what student needs you were seeking to address with this project, and share how you were able to put the kits together?
The Finals Survival Kits served two main purposes. The first was to provide a low stakes way for students to engage with us without requiring an information need first, such as a reference question. By providing students with a kit containing items they were likely to use during finals, and requiring them to come into the library to get the kit, it was a invitation of sorts to check out our space and see what we offer. The second purpose was to support our students with tools and items they need for success during finals. Our community college students traditionally can be underprepared for college and/or face barriers to accessing certain tools and resources. By providing these kits, we wanted to show students that they library is a place of support to students, especially in high stakes times like finals week. We saw the kits as a way for us to combat the library anxiety that sometimes prevents students from experiencing their library and its resources. We hoped it would send a message to students, even if they did not want the kit, that the library supports them and cares about their success.
How did students and faculty respond?
This program actually was only possible because of our students! Once a year at my institution, our Associated Students Government put out an in-house grant funding opportunity to fund ideas that support students. Strict rules state the funding can only be used for programs and materials that will directly benefit students. We proposed the finals survival kits to the organization, in our application highlighting the ways students would benefit from visiting the library and receiving a kit. The recipients of the money are selected by students involved in student government.
We had a wonderful response and turn out. 1,000 kits were put together and distributed to unduplicated registered students. We saw that both students who were regular library users and new library users were coming in and picking up their kits. Students expressed thanks and joy over getting a free kit and having items like a Scantron (test taking form used on many of our finals) and pencils. The drawstring pack and pencil were branded with our library logo/brand, which students enjoyed. Some students do not have the means to purchase items at their campus bookstore to show school spirit, and this pack gave them something that allowed them to show school spirit without the cost barrier.
Our faculty also responded positively and were engaged to help us market this initiative to get survival kits in the hands of their students. We sent out an all staff and faculty email advertising the kits and asked faculty to share with their students. Multiple faculty responded to this with praise. Some inquired about getting library materials to support their curriculum, which was an unintended but positive outcome from this advertising.
The project also provided us with some interesting data we're looking forward to exploring in order to learn more about our students. To prevent the same patron getting two kits, we managed the kits at the circulation desk and asked students to present their student ID. Their ID number was recorded on a protected list that verified using an Excel formula that their ID had not already been used. This data is also useful to us to analyze further later on when we assess the program as a part of our agreement to accepting the funding. We will work with our Office of Institutional Effectiveness research team to translate our data into quantitative findings of which segments of the student population we reached and visited the library in connection with the program.


Danielle Rapue is the Systems and Assessment Librarian at Pasadena City College. Her role focuses on supporting and maintaining access to library technology and the collection, analysis, and communication of library data. Danielle also provides reference support and library instruction to her campus community. Prior to working in libraries, Danielle worked in market research for 6 years as a recruiting manager, facilitating qualitative and quantitative research for a private sector company based in the Silicon Valley. Danielle received her M.S. in Library and Information Science degree from San Jose State University iSchool in 2016.