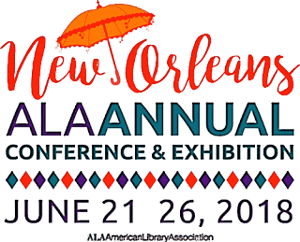 Over 10,000 folks attended last month's ALA Annual Conference. From former First Lady Michelle Obama to Presidential Historian Doris Kearns Goodwin, there were many exciting talks and programs promoting literacy, research, and community engagement. Here are a few sessions that really stood out to me as an academic librarian.
The ACRL Student Learning and Information Literacy Committee

organized a discussion forum called, "Where Do We Stand? The Accreditation Process and the Library." Attendees shared their best practices, experiences, and opportunities in supporting their university's process. There was also discussion on the role of information literacy in accreditation, and what kinds of data, tools, or resources would be needed to demonstrate the effectiveness of information literacy in supporting student success. The purpose of this session was to brainstorm resources for instruction librarians to prepare documentation and reports on information literacy activities as a component of an institutional accreditation process.
The ACRL Community and Junior College Libraries Section

organized a panel entitled, "Making the Framework Work: Adapting the ACRL Framework for Information Literacy in Community College Library Instruction." The speakers were community college librarians from different parts of the U.S. who shared examples and scenarios in integrating the ACRL Framework into their teaching practices. This was an opportunity for the information literacy community to learn more on how to utilize the framework along with other concepts such as the threshold concept to enhance student learning.
Overall, these sessions were some of many great programs that focused on enhancing student learning, outreach, and information literacy. For those who missed the conference, you can follow along and join online conversations under the #ALAAC18 hashtag on Twitter.