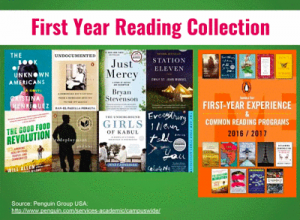 First year success librarians Raymond Pun and Kate Angell recently spoke about innovative ways they've found to engage first year students in their respective libraries. To be clear, in Beyond Information Literacy: 10 Ways to Engage with Your First Year Students, they aren't talking about bypassing information literacy. In fact, many of these programs and ideas work in tandem with ongoing IL initiatives. Here's a quick sample of some of their tips, or you can watch the full webinar recording.
#10: First Year Reading
FYE Collection: Help first year students identify a space they can call their own while introducing them to your library collection and familiarizing them with the stacks. This could include books on the hot topics they might be using in their Comp 101 persuasive essays, general research skills, and more!
Zines for First Years: Kate uses a 1-page zine she disseminates at her instruction sessions, the reference desk, and other strategic locations. Her zine includes library resources and services, how to access textbooks, different floors in the library, how to take advantage of research and reference help, library hours, etc. This is great for promoting library resources and helping build a relationship with first year and transfer students.
#6: Resume Workshops
In addition to helping students improve their writing and prepare for their future careers, Resume Workshops help students secure on- or off-campus jobs and internships. Many libraries work in conjunction with their school's writing center or student success department to introduce students to the resources that will help them find and apply for jobs. Ray added that his library has worked with students on community engagement and service learning projects in order to build students' resumes, while also cultivating valuable leadership and volunteering experiences.
#5 Podcasts!
Only 11% of attendees to the webinar had ever produced a podcast, and Ray encouraged the audience to grow that number. Ray spoke about the schools using digital storytelling and podcast series for the FYE. The possibilities for content are endless, but could include tips for getting off to a good academic start in college, lessons people wished they'd had in their first year, and experiences of coming to a new campus. The library role might be as light as simply loaning out equipment or servers, but could expand to hosting the recordings and identifying guests. Kate told us that her school's media librarian is starting a podcast series right now!
Watch the full webinar recording to learn about all of the great ways librarians are engaging first year students for success!