Digital Learning Objects: Exploring New Ways to Teach Online Learners
By Raymond Pun and Danielle Rapue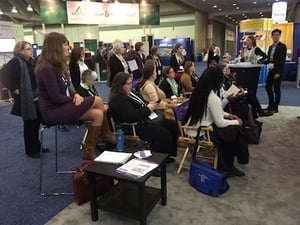 The ACRL 2017 Conference just ended a few days ago. It was energizing, refreshing and inspiring on many levels. At the exhibit hall in the Credo Reference booth, we gave two short presentations: Library Journal's Survey Results on Emerging Trends in FYE (read my full report), and Applying Assessment Techniques to the FYE.
Both talks generated a lot of discussion and engagement from attendees, who also received a copy of ACRL's newest publication, The First Year Experience Cookbook (Thanks to Credo for ordering them!). After the presentations, there were several questions about digital learning objects and how to support online learning in the FYE. In this blog post, we will cover some tools you can consider for your online FYE programs!
Almost every university in the US is seeing a growing number of online/hybrid classes and digital learners. Are there effective strategies and tools for engaging this community beyond LibGuides? Sure! Here are a few of our favorite tools you might want to explore further for your FYE program:
Are you or your library doing incredible work to support the first year experience? Consider applying for The First Year Experience Innovation Awards!
Danielle Rapue is a recent MLIS graduate of San Jose State University iSchool. She is an adjunct librarian for two California Community College Districts, West Hills Community College and College of the Sequoias.