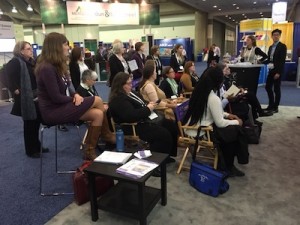 We had an amazing time in Baltimore for the ACRL Conference, and we're grateful to all of the librarians we got a chance to meet and talk to about the state of research and reference today.
Librarian Raymond Pun hosted two rousing presentations about libraries and the First Year Experience. See his recap here, which includes a list of tools and strategies librarians asked him about during the conference.
Some of the best conversations we had at the booth centered around our new infographic, Truth & Assumptions: Views on the Student Research Process. For example, 51% more students reported receiving instruction on how to use library resources compared to when we asked the same question two years ago. Progress!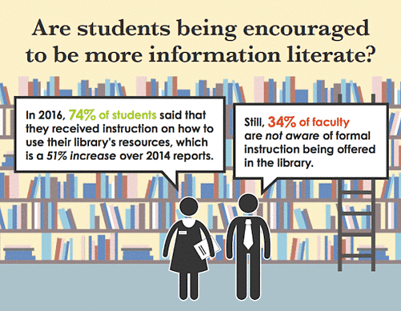 Carl Andrews, Assistant Professor/Librarian at Bronx Community College won a free year of our InfoLit Modules when his name was randomly drawn from respondents to our booth survey on information literacy. 65 librarians participated in the survey, which taught us that:
59% stated 'Evaluating Sources' was the most important skill for freshmen to learn, followed by 'Selecting/Narrowing their Topic' at 49%.
When asked about the biggest obstacle to meaningful librarian/faculty collaboration, an overwhelming 71% said faculty underestimate the value of the library.
Possessing the skills employers seek was listed as the top post-graduation benefit for students who build strong information skills (57%).
We also announced the First Year Experience Innovation Awards, and began accepting nominations for the inaugural presentation at next year's Personal Librarian & FYE Library Conference. We've partnered with Case Western Reserve University's Kelvin Smith Library to identify and recognize one library and one librarian every year who demonstrate leadership in the FYE space. The winners will receive a $1,500 cash prize (and fancy plaque!) for their efforts to impact first-year students.